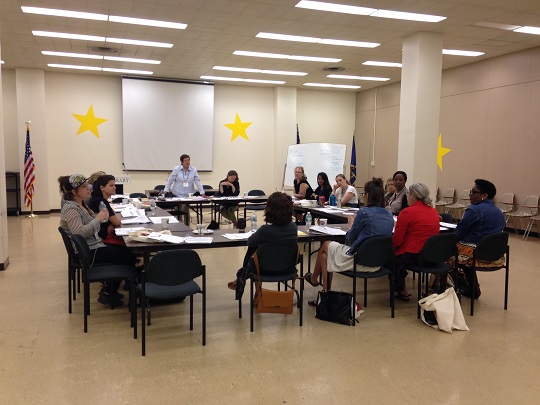 Young Audiences of Western New York hosted their Buffalo Emerging Leaders Institute this past week, July 27-29, 2015. Building on the success of Young Audiences' national Emerging Leaders Institute model, the Buffalo Institute served approximately 25 emerging leaders in the arts from organizations and schools across New York State. The Institute served artists, non-profit administrators, service providers, community organizers, artists, and teachers, who are looking to improve their skills as leaders. This is the second year the Buffalo Institute has been offered.
The Institute takes advantage of the revitalized riches Downtown Buffalo has to offer, with out-of-town participants staying at the historic, recently renovated Lafayette Hotel, and seminars held at the Buffalo & Erie County Public Library, Starlight Art Studio and Gallery, and Hallwalls Contemporary Arts Center.
Seasoned Executive Coach Judi Spear, founder of RVRhodes, LLC., helped participants achieve practiced leadership throughout the three days, and served as the facilitator for the Institute. Presentations addressed functional needs as well as topics relevant to successful leadership and management, with content guided by institutional and community needs specific to New York State.
The intensive experience also provided training and best practices in inclusion, personal renewal, grantsmanship, team leadership, fundraising, collaboration, and volunteerism. Break-out sessions and small-group workshops allowed for networking, the sharing of perspectives and best practices, and peer-to-peer discourse and reflection.
In addition to the three-day Institute in Buffalo, participants will remain in contact throughout the year to discuss personal successes and challenges and share their progress in taking on leadership roles in their communities. Participants will also have the opportunity to attend the Young Audiences National Conference in Miami in April, a valuable opportunity for emerging leaders and artists.