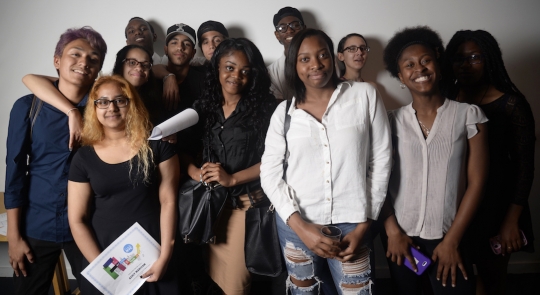 LINK NYC student participants
On Tuesday, June 7, 2016, Young Audiences New York, our affiliate in NYC, showcased the outstanding work created by students through its LINK NYC after-school program. Students were paired with corporate mentors from industry-leading companies such as AMC, Facebook and Now This Media, among others. This packed event at the Scandinavia House in midtown Manhattan was attended by 
mentees, mentors, schools and business partners – as well as families and colleagues.
For the inaugural mentorship program, LINK NYC divided sophomores, juniors and seniors into small groups to create video content suitable for online or mobile viewing. Students worked in collaborative teams with their mentors and teaching artist to craft their own short stories, news items and in some cases even advertisements. At the event, student groups streamed their final videos for brand partners like Herschel Backpacks, who asked groups to produce an ad showcasing their products. 
"We are so appreciative of the time, effort and resources that AMC, Facebook and Now This Media contributed to this inspirational initiative," said YANY Board President Robert Riesenberg. "Not only have they given our students this unique, real world experience in storytelling through video but also the opportunity to dream about their futures."  
Launched earlier this year, LINK NYC addresses career barriers – including lack of training, networks and college preparedness – disproportionately affecting low-income youth across New York City. Designed to provide real-world experience in the fields of digital media, music production and visual arts, the program allows students to engage in skills-building workshops, work-based learning opportunities and college and career advising.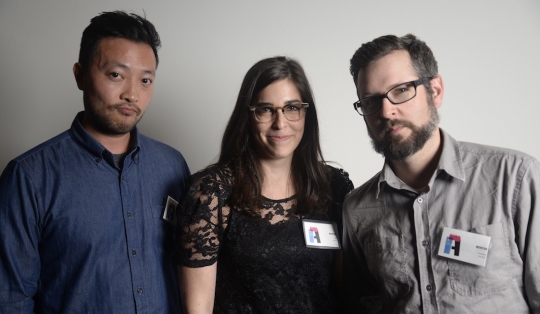 LINK NYC mentors
"LINK NYC is truly a unique program in that it gives media professionals more than an opportunity to give back to their community; it allows us to invest in the next generation of creative talent we'll be looking to hire in a few years," said mentor Dhiya Kuriakose, Sr. Strategist for Emerging Media at Now This Media. Another mentor, Jim from Facebook, said "It is really impressive when you give kids the responsibility of taking on a project. I was blown away by how smart, funny and sharp the kids are. It was a great experience for me!"
To learn more about YANY or the LINK NYC program,
click here
.