Happy Holidays to all! During this time of giving and holiday cheer, Young Audiences affiliates are in full swing bringing the arts to children across the country. One such program that fully embodies the spirit of the season is the Houston Healing Arts Program organized by Young Audiences of Houston.
For the past 13 years, Young Audiences of Houston has been partnering with children's hospitals in the Houston area to bring the Houston Healing Arts Program to children undergoing treatment year round. The Houston Healing Arts Program focuses on bringing the healing power of the arts to children who need it most. The goal of the program is to use the power of the arts to spread joy, give hope, manage pain, support treatment, and leave positive memories for hospitalized children and their caregivers. Undergoing treatment at a hospital can often be an intimidating experience for a young child and their family. Young Audiences of Houston believes that the best way to remedy these anxieties and help to raise the spirits of those involved is to engage them in arts programs that are both inspiring and enriching.
The families involved experience a variety of specially designed arts programs ranging from puppetry and painting to storytelling and dancing in order to provide something that will get their children smiling and also serve to enrich their social, cultural, and academic education. This year, YAH has expanded their partnership to include Aurora Picture Show in order to offer professional quality animation experiences to participants who are interested in creating their own animations. Young Audiences of Houston's current hospital partners are the Texas Children's Hospital Cancer Center, and The University of Texas MD Anderson Cancer Center Children's Cancer Hospital.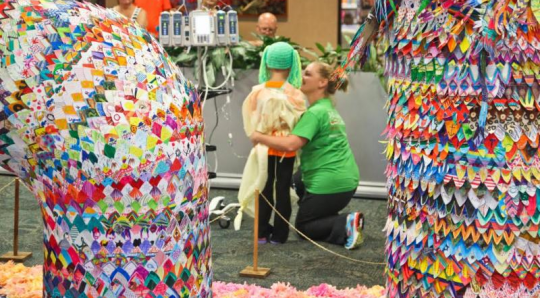 A family with Okoa the Waverider. A collaborative sculpture made by the MD Anderson Arts in Medicine Program, 2014. Photo credit: Katy Anderson
The American Cancer Society describes Art therapy as a way "to help people manage physical and emotional problems by using creative activities to express emotions." Art therapy has been used with patients in a variety of situations such as with bone marrow transplant patients, disabled people, cancer patients, and the chronically ill and has been documented to provide significant benefits both physically and emotionally.*
During the 2012-2013 school year, Young Audiences of Houston and the Texas Children's Cancer Center partnered together in order to study the impact that artistic performances have on the patients and families waiting for treatment in a hematology/oncology setting. The hope is that as a result of this study, YAH will be able to provide tools to evaluate the effectiveness of various Arts in Medicine activities in order to allow for arts presenters to support patients with programs that are most beneficial to them.
YAH believes that supporting these young children and their families through these difficult times is of utmost importance, and hope that their work will help ease the suffering of patients in Houston and beyond.
For more information about YAH or the Houston Healing Arts program, visit their website at yahouston.org
*For more information visit the American Cancer Society Website