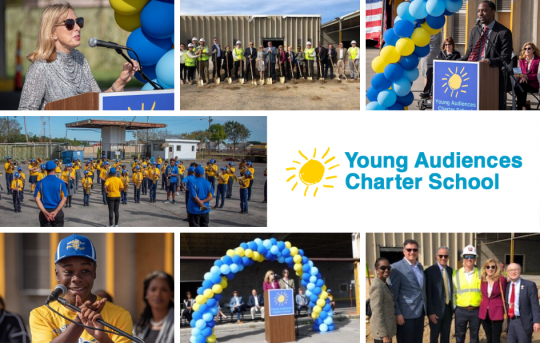 On Tuesday, October 22
nd
, 
Young Audiences Charter School (YACS) 
broke ground on its new state-of-the-art facility at 1000 Burmaster Street in Gretna, Louisiana. Serving students from Jefferson Parish Public School System (JPPSS), YACS is the school division of 
Young Audiences of Louisiana
(YALA), Young Audiences Arts for Learning's New Orleans-based affiliate. Located at the site of a former Coca-Cola bottling plant, the new campus will house middle and high school students. Educational and government leaders joined YACS parents and students to celebrate the kickoff of the $25-million capital project, which will involve building renovation, new construction, and landscaping.
This groundbreaking represents a significant expansion of YACS, the only fully arts-integrated public charter school in the Greater New Orleans area. Founded by YALA in 2013, with support from National Young Audiences, YACS first opened its doors to JPPSS students entering Kindergarten through Grade 3. Since its inception, the school has added one grade each year, most recently welcoming its inaugural class of Grade 9 students.
The high academic achievement levels of YACS students led JPPSS, in 2017, to grant a charter extension to YACS, authorizing the school to serve students through Grade 12. However, growth in student body size and community demand – coupled with an increased need for cutting edge arts-integrated on-campus resources – necessitated the construction of additional facilities. Subsequently, in 2019, the Louisiana State Legislature granted YACS tax-exempt bonds to build a new state-of-the-art campus, which will serve Grades 6-12.
Spanning 177,000 square feet over an 11-acre area, the new campus on Burmaster Street will feature theatre and performance spaces, a music studio, new classrooms, green spaces, sports facilities, and art studios. Located behind the current YACS school facility on Virgil Street, the new campus will make for a convenient transition for current YACS families once construction is completed. The new campus will also serve as a valuable community asset and creative hub for the surrounding neighborhood.
"We are thrilled to expand our arts-integrated curriculum to more students in Jefferson Parish," said Young Audiences of Louisiana Executive Director Rickie Nutik. "We are proud to be able to offer a high-quality, open-enrollment education for students in Grades K-12."
Nutik spoke at the October 22 ceremony, which also included a special hardhat performance by the YACS marching band. Additional speakers and notable attendees included YACS Leader Brandon House, Young Audiences National and YACS Board Member Mary Nass, Louisiana State Treasurer John Schroder, Gretna Mayor Belinda Constance, and JPPSS Superintendent Dr. Cade Brumley, among others.
To celebrate the expansion of YACS and help kick off this exciting new chapter for YALA, Young Audiences Arts for Learning will be 
hosting its 2020 National Conference in New Orleans, LA.
 As part of the itinerary, conference participants will get to go on behind-the-scenes site tours of YACS. Conference details will be published in December.