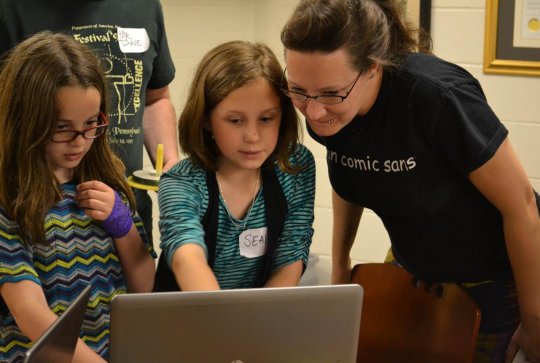 Images: Indiana's teaching artist Holly Combs with students (above), Wichita teacher, Dyane Smokorowski, Kansas Teacher of the Year, teaching students in immersive game design (below).
Young Audiences Arts for Learning (YA) was prominently represented at DESIGN-ED FUTURE 2014, a Design Education Conference at The University of the Arts in Philadelphia on June 27 and 28.  Jan Norman, National Director of Education, Research and Professional Development, was joined by Marsha Dobrzynski, Executive Director of the Center for Arts-Inspired Learning, YA Affiliate from Ohio, and JoEllen Rossebo, President and CEO of Arts for Learning Indiana, in presenting a highly rated session on Immersive Game Design: Integrating Education Through Design. 
The conference, sponsored by DESIGN-ED, a non-profit organization to promote collaborative interests, resources and design standards within the National Coalition for Core Arts Standards. Focused on exemplary programs in design education and featured high-quality, high-energy presentations to arts and education leaders from across the country and Great Britain, where design is a required subject within their national curriculum.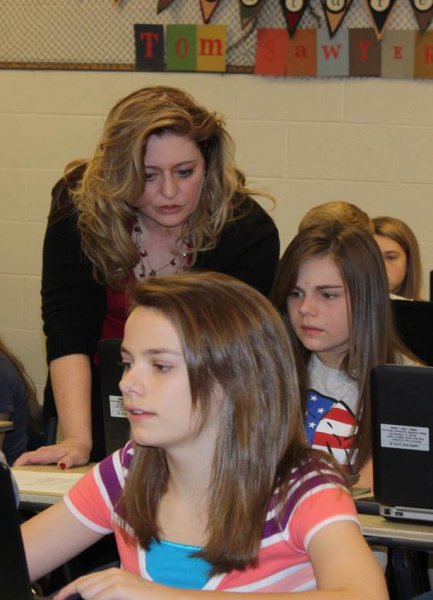 The opening session of the conference acknowledged the seminal leadership of Dr. Jan Norman and Dr. Charles Burnette, beginning 25 years ago at The University of the Arts (UArts) with the development of D·K12, design-based learning, and leading to the founding of The "Design for Thinking" Teaching Institute by Jan Norman.  In 1998 the term "Design Thinking" was formally introduced to the field of arts education at a national conference at UArts sponsored by the National Endowment for the Arts.
YA's session allowed participants to share and experience the benefits, framework, process and outcomes of an exemplary YA program called Immersive Game Design: A 21st Century Strategy.   Supported by the National Endowment for the Arts, the program was developed in partnership with Laguna College of Art and Design and three YA Affiliates in Ohio, Indiana and Kansas. This successful, highly innovative program, featured as a model by NEA in the spring 2013 NEA Quarterly Journal, uses digital game design that draws upon the visual arts and design, music, literary arts, science, and technology to create interactive games that engage students in solving real-life problems. 
Immersive Game Design Program - Arts for Learning, Indiana
Game Design was the key element presented as a rapidly evolving medium that brings together 21st century learning skills and essential elements of creativity, innovation and education.  The Immersive Game Design programs have been effective in supporting school-to college and career readiness, particularly benefiting low income and English Language Learners at the middle and high school level. This program has also been effective for both in-school and out-of-school programs, and in alternative sites, such as a youth detention center in Indiana and a high school summer program such as Art Works in Cleveland and the new Cleveland Digital Arts High School, which will open fall, 2014.   
Participants in the workshop experienced hands-on activities and learned from the collaborative YA approach for professional development, implementation, and evaluation based on the YA IDEA model for Design Thinking as a framework for 21st century skills, STEAM, and life-long learning.
One of the hands-on activities had participants use the basic concept of the card game War.  This short interactive experience taught participants how to better understand gaming logic by defining new rules to create a more complex and lively gaming experience. Participants, working in groups, refined their rule sets and assessed their game's outcome by presenting to other group members. This activity succinctly accomplishes how you design and create a game using the YA IDEA model: how a student applies design logic, innovative thinking and the process of invention to their projects.
This article was contributed by Dr. Jan Norman, National Director of Education, Research and Professional Development, Young Audiences Arts for Learning.