The Young Audiences Network will celebrate YA Week April 14-27, 2019, to raise awareness and support for arts-in-education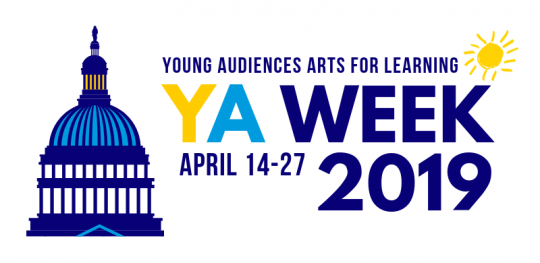 FOR IMMEDIATE RELEASE
NEW YORK, NEW YORK – Young Audiences Arts for Learning, the nation's largest art-in-education network, is proud to announce that National Young Audiences Arts for Learning Week (YA Week) 2019 will be held April 14-27.
An annual advocacy and awareness initiative first championed by Conductor Leonard Bernstein in 1971, YA Week has grown into a two-week celebration of arts-in-education observed each spring by the YA Network, leaders in the field, and individual supporters. Young Audiences Arts for Learning's affiliates mark YA Week with a variety of special events, public programs, open classrooms, and other outreach, with the goal of spotlighting for congressional stakeholders and the community the powerful impact of the arts on the education and development of our next generation of learners.
"The arts provide young people with the knowledge, passion, and creativity they need to flourish in curricular, career, and personal endeavors. Our affiliates provide a wide-range of arts-integrated programs that foster critical thinking and problem-solving skills, self-discipline, imagination and creativity, as well as cross-cultural understanding. YA Week is an opportunity to showcase and celebrate the deep and demonstrable impact of the arts on learning, engagement, and development," said David A. Dik, National Executive Director of Young Audiences Arts for Learning.
A core value of Young Audiences Arts for Learning is that all young people, regardless of their zip code, deserve access to a well-rounded education that incorporates the arts into learning and propels students to develop skills for success in school and in life. Each YA affiliate (listed below) will release information about their local YA week celebrations in the upcoming weeks.
YOUNG AUDIENCES OF ABILENE
ABILENE, TX

YOUNG AUDIENCES OF HOUSTON
HOUSTON, TX

YOUNG AUDIENCES OF LOUISIANA
NEW ORLEANS, LA

YOUNG AUDIENCES OF MARYLAND
BALTIMORE, MD

YOUNG AUDIENCES OF MASSACHUSETTS
BOSTON, MA

YOUNG AUDIENCES NEW JERSEY & EASTERN PENNSYLVANIA
PRINCETON, NJ

YOUNG AUDIENCES NEW YORK
NEW YORK, NY

YOUNG AUDIENCES OF NORTHEAST TEXAS
TYLER, TX

YOUNG AUDIENCES OF NORTHERN CALIFORNIA
SAN FRANCISCO, CA

YOUNG AUDIENCES OF OREGON & SW WASHINGTON
PORTLAND, OR

YOUNG AUDIENCES OF SOUTHEAST TEXAS
BEAUMONT, TX

YOUNG AUDIENCES OF SOUTHWEST FLORIDA
NAPLES, FL

YOUNG AUDIENCES OF VIRGINIA
NORFOLK, VA

YOUNG AUDIENCES OF WESTERN NEW YORK
BUFFALO, NY

KANSAS CITY YOUNG AUDIENCES
KANSAS CITY, MO

ARTS FOR LEARNING CONNECTICUT
HAMDEN, CT

ARTS FOR LEARNING INDIANA
INDIANAPOLIS, IN

ARTS FOR LEARNING MIAMI
MIAMI, FL

ARTS FOR LEARNING SAN DIEGO
SAN DIEGO, CA

ARTS FOR LEARNING SANTA CRUZ COUNTY
NOGALES, AZ

ARTS PARTNERS
WICHITA, KS

CHICAGO ARTS PARTNERSHIPS IN EDUCATION
CHICAGO, IL

ARKANSAS LEARNING THROUGH THE ARTS
HOT SPRINGS VILLAGE, AR

BIG THOUGHT
DALLAS, TX

CENTER FOR ARTS- INSPIRED LEARNING
CLEVELAND, OH

SPRINGBOARD TO LEARNING
ST. LOUIS, MO

THINK 360 ARTS FOR LEARNING
DENVER, CO

ARTS NOW LEARNING
ATLANTA, GA
Organizations, individuals, and advocates of arts-in-education can join the YA Week celebration by showing your support on social media, using the hashtag #YAweek. For details and more ways to get involved, visit www.ya.org/YAweek.
Facebook: Young Audiences – National
Instagram: @Young_Audiences
Twitter: @YoungAudiences_
About Young Audiences Arts for Learning
Founded in 1952, Young Audiences Arts for Learning (Young Audiences) is the nation's largest art-in-education network serving more than 5 million young people each year. Young Audiences works to support affiliated organizations that are each dedicated to playing a decisive role in young people's personal, artistic, and educational development. Learn more about Young Audiences and our mission to inspire young people and expand their learning through the arts at www.youngaudiences.org.
Contact:
Emily Lattal
Young Audiences Arts for Learning
212-860-1563 Ext. 104
emily@ya.org