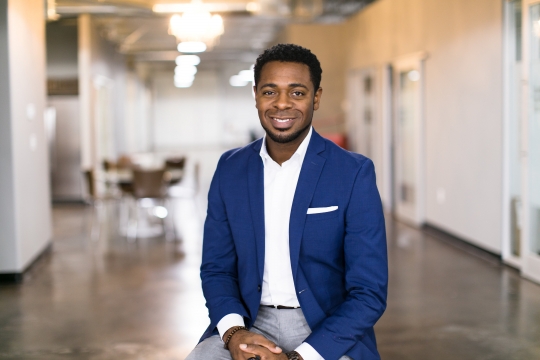 Young Audiences Arts for Learning is pleased to announce that the network's Dallas, Texas-based affiliate, Big Thought, has appointed Byron Sanders as its new President & CEO.
For 30 years, Big Thought has striven tirelessly to end the opportunity gap and ensure all students have access to creative learning opportunities that prepare them for success in work and life. Day in and day out, Big Thought carries out its mission to make imagination a part of everyday learning.
Big Thought's work strongly resonates with Byron. "I grew up in southern Dallas and I benefited from programs very similar to what Big Thought provides to Dallas students," he said. "Today we are at a critical juncture. Closing the opportunity gap means that in addition to high-quality education programs that unlock creativity, we also must provide our children with social and emotional learning skills that will prepare them for careers that are yet to be created," he added.
Byron brings to Big Thought his past experiences as Vice President and Institutional Client Advisor for US Trust and Executive Director of the Dallas Education Foundation. In 2011, Byron helped to lead Group Excellence, an educational services company, which was named the 5th fastest growing education company in the country, and was featured on the prestigious Inc. 500 list. Byron has served on a plethora of high-profile boards such as United Way's Community Impact Council, Social Venture Partners Dallas, CitySquare, The ChildCareGroup, and Big Thought. Byron is a recipient of the 2014 Dallas Business Journal's Minority Business Leaders and 40 Under 40 awards. In 2017, he became a Presidential Leadership Scholar.
"The future of Dallas is in the hearts, hands and minds of our city's youth. Byron Sanders has had a passion for our city's youth for years. I applaud the board's decision and believe he will lead Big Thought – and our city's children – into this new era," said Dallas Mayor, Mike Rawlings.
On behalf of the YA network, we are thrilled to welcome Byron!
For more on Big Thought and their work in Dallas, Texas, visit their website at bigthought.org.