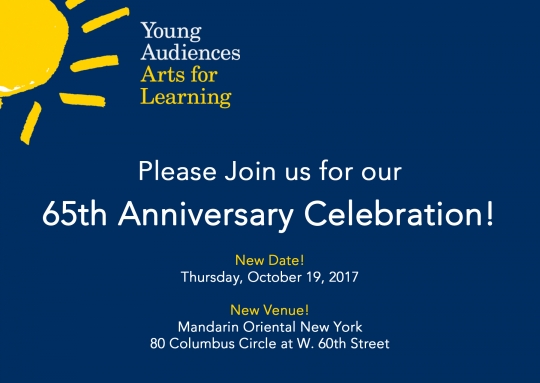 It is our pleasure to honor three members of Young Audiences National Board of Directors at our 65th Anniversary Gala on Thursday, October 19, 2017 at the Mandarin Oriental New York, located in the heart of New York City at 80 Columbus Circle.
| | | |
| --- | --- | --- |
| | | |
| Mary Ann Fribourg   |  Corinne P. Greenberg  |  Sue Ann Weinberg |
On this special evening, we will recognize Mary Ann, Corinne and Sue Ann for their talents, dedication, and outstanding leadership.  Without a doubt, their wisdom, foresight and steadfast commitment, individually and collectively, have made Young Audiences the nation's leading source of arts in education services. 
Mary Ann, Corinne and Sue Ann believe that the arts play a decisive role in all young people's education and development. They have made Young Audiences' mission a reality because of their vision, broad experience and perspective, insistence on the highest standards, and a commitment to staying the course over time. They have helped Young Audiences envision a future in which the nation's youth will have the opportunity to engage in quality arts learning experiences that nurture creativity, build cultural understanding and enhance the development of their learning and life skills.
We hope you will join us on October 19 to honor these very special women who are indeed the heart and soul of Young Audiences Arts for Learning. 
Please click here for a digital copy of the invitation and reply card.