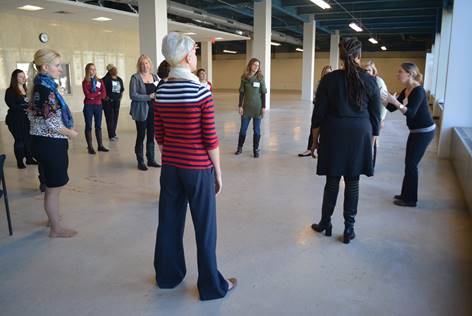 Workshop presenter Joy Guarino, Associate Professor of Dance at Buffalo State College, 
presenting Building Community with a Kinesthetic Classroom at the 2014 Arts Abilities Conference
Young Audiences in conjunction with Arts Partners for Learning will host the 8thAnnual Patricia Cotsen Arts Abilities Conference on October 29, 2015 at the Downtown Library in Buffalo, NY. The conference will bring together teachers, teaching artists, cultural specialists, arts and cultural education program providers, and many more who are innovating in their schools and in the community. Western New York's most innovative educators and artists will share information about their great work in STEAM (Science, Technology, Engineering, Art, and Math) programming.
 Standard tickets will be $50, $30 for partners, and $20 for artists & students. Complimentary tickets are available for volunteers. To register online, visit http://ArtsAbilitiesTickets2015.eventbrite.com. 
Arts Partners for Learning professional development forums are intended to address the growing need for cultural organizations to partner with schools, outside of school providers, and teachers in ways that are designed to meet a wide range of learning needs, and prepare young people for the 21st Century workforce. Workshops will provide significant hands-on activities, takeaway tools (documents, websites), and will demonstrate differentiated learning theory in their structure. The day concludes with a keynote panel and Q&A with community leaders and innovators.
Presenters include:
•   Amelia Blake: Explore & More Children's Museum
•   Alex Fernandez: Yahoo! / STEAM Consultant, Interweb Consulting
•   Kathryn J. Galvin: Buffalo & Erie County Public Library
•   Melissa Kate: Young Audiences
•   Kevin Kline: Squeaky Wheel
•   Marissa C. Lehner: Young Audiences, Teaching Artist
•   Aleks Malejs: Young Audiences, Teaching Artist
•   Kelsey McCann: Explore & More Children's Museum
•   Jeremy Stock: Young Audiences, Teaching Artist
Conference participation contributes to the 175-hour requirement for NY State Professional Development Standards. All necessary documentation will be provided. The 8th Annual Arts Abilities Conference is made possible with support from the Buffalo & Erie County Public Library, Current Catering, Erie County, Fund for the Arts, and the New York State Council on the Arts. The conference was named for Patricia Cotsen, a long-time devoted Young Audiences board member and community advocate, when she passed away in 2009.