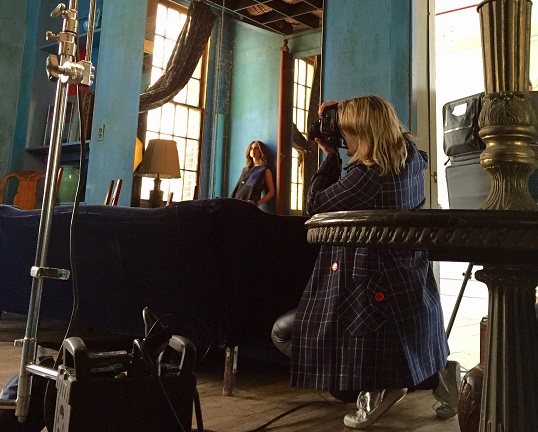 Photos courtesy of Sophie Elgort
Sophie Elgort is a fashion photographer born and raised in New York City. She began snapping photos from a young age, inspired by her father, photographer Arthur Elgort. She studied at Brown University and spent summers experiencing all angles of the fashion industry, learning from the best including Azzedine Alaïa and Vogue.
Sophie's photography has been published in an assortment of publications including Teen Vogue, Glamour, Elle, Paper, Tatler, Visual Tales and The Financial Times. She also counts brands including Bloomingdales, Botkier, Boy Meets Girl, Clinique, Etienne Aigner, La Perla, Mercedes Benz, Rent the Runway, Theory, Topshop and Vince Camuto as clients.
Sophie has also been called upon by a variety of media outlets to share insights on the topics of fashion, style and photography including AOL Style, Look TV and The Financial Times, whose style column, Suits and the City, she co-created in 2011.
Young Audiences Arts for Learing: How were you inspired by the arts at a young age?
Sophie Elgort: Both my parents are artists - my dad is a photographer and my mom is an opera director - so there was no shortage of the arts in our house growing up. Music was the thing that really caught on starting at a very young age, my parents started me playing classical piano when I was three years old and I was in many of my mom's productions too. I also went on set and traveled to jobs with my dad whenever possible so was exposed to photography that way. My dad was always very generous with his cameras with my brothers and me, we were always allowed to use them and practice - we always took cameras to school and to camp. We also staged shows and dance routines at the house to perform for guests when they came over. 
YA: We are thrilled that you are continuing to co-chair for our Gala After Party! How did you first get involved with Young Audiences?
Sophie Elgort: My long time friend Ashley Karpf, who is also a co-chair, introduced me to the event and the mission back in 2009 when she asked me to be a co-chair. The mission of the foundation resonated with me and I have been involved ever since. Many of my other friends have since become involved too, so it's become a sort of tradition we look forward to every year. 
YA: How do you think photography as an art form can impact a young person's life?
Sophie Elgort: Photography is all about the point of view of the photographer, so it gives a young person (or any person) a means of self expression. Also, as a photographer you are also a director, so I think it teaches good interpersonal skills especially if you're photographing people. Now with digital photography and great cameras on cell phones, photography as an art form is more accessible than ever. 
YA: When did you realize you wanted to be a professional photographer?
Sophie Elgort: I always did photography as a hobby, photographing my friends and family, but I realized I wanted to do it professionally in 2009 (I was 22) when some of my friends started an online fashion website. They needed a photographer to photograph the clothes and create content and they asked me if I would consider doing it in exchange for a piece of the company. After the first couple of shoots I realized that taking pictures was what I wanted to do professionally for the rest of my life. 
Join Sophie and Young Audiences Arts for Learning at the Young Audiences Afterparty, November 19 at the Waldorf Astoria NYC to support Arts in education. Tickets are available at the door.