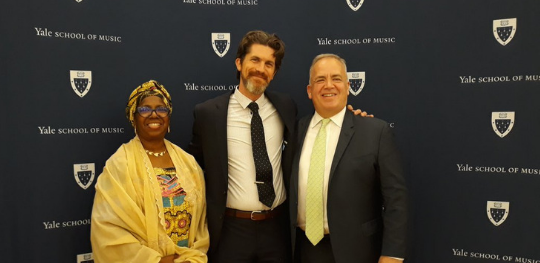 Christopher Sheard, from Young Audiences of Louisiana, was honored at Yale School of Music's 2019 Symposium on Music in Schools. He was invited to New Haven, CT, where he accepted the Yale Distinguished Teaching Artist Award on Friday, June 14. The award recognizes outstanding achievement in music education and highlights Sheard's contributions to the field of teaching artistry.
Sheard is an arts integration specialist with over a decade of experience in early childhood music education. He began his career in New York, working as a teaching artist while playing and recording as a professional musician. Sheard currently resides in New Orleans. He has been with Young Audiences of Louisiana, Young Audiences Arts for Learning's New Orleans-based affiliate, for six years.
He is also one of the inaugural recipients of Young Audiences Arts for Learning's National Residency Teaching Artist Credential (TAC).
"Chris embodies all the qualities that go into making an exemplary teaching artist," said YA National Executive Director David A. Dik, who was present at the Yale awards ceremony. "His authentic creativity, mastery over his art form, and ability to connect with people of all ages help drive the advancement of teaching artistry as a whole."
On behalf of the entire YA community: Congratulations, Chris!
To learn more about Young Audiences of Louisiana, visit their website at: https://ya4la.org
To learn more about Yale School of Music's Music in Schools Initiative, visit: https://music.yale.edu/community/music-in-schools/
(Photo L-R: Akua Kouyate-Tate, Christopher Sheard, David A. Dik)