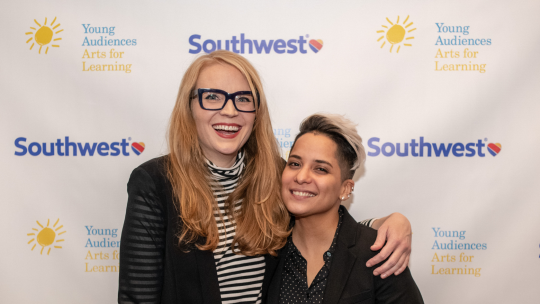 (L to R, Emily Tarver and Vicci Martinez at YA Gala 2018. Credit: Shulamit Photography)
We're pleased to announce that Young Audiences Arts for Learning's 2019 Gala on October 29th will feature a performance by Vicci Martinez and Emily Tarver!
This annual event brings together dedicated supporters of arts in education for a memorable evening in celebration and support of our work to inspire young people and expand their learning through the arts. 
Vicci and Emily attended our 2018 Gala and we are thrilled that they will be joining us again this year to perform and honor their friend and "Orange is the New Black" castmate, Joel Marsh Garland.
Vicci Martinez is a singer/songwriter and actress from Tacoma, Washington. With a musical style that is firmly rooted in the acoustic-rock tradition, Vicci's compositions are personal and often autobiographical. In 2011, she placed third in NBC's singing competition series "The Voice." She has released many albums throughout her career and has received critical acclaim for her live performances. As an actress, Vicci received her big break portraying inmate Daddy on the Netflix series, "Orange Is the New Black." 
Emily Tarver is an actress, writer, comedian, musician, and producer from Houston, Texas. Her comedic work includes stand-up, improv, sketch, and musical comedy. Emily is best known for her roles in the Tina Fey/Amy Poehler comedy "SISTERS," Vh1's "Best Week Ever," "DONNY!" on USA, and most recently, playing CO Artesian McCullough in the Netflix series, "Orange is the New Black." 
Vicci and Emily met on "Orange is the New Black" and fell in love. Now they harmonize about their love and their life. 
Don't miss this opportunity to support arts in education! Each ticket purchased helps provide innovative arts learning programs across the country and supports our vision to give young people everywhere access to a well-rounded and arts-rich education. For more deails, visit: www.ya.org/Gala2019.