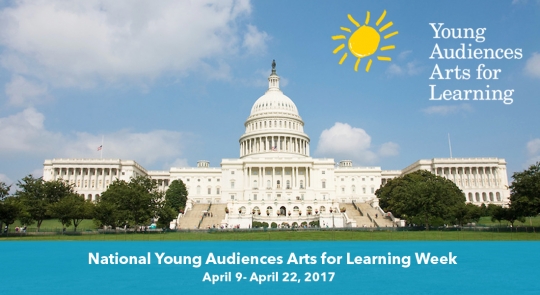 US House Resolution Designates April 9th- April 22nd as National Young Audiences Arts for Learning Week
New York, NY (April 11, 2017) — Congresswoman Louise Slaughter (D-NY) has introduced a Resolution to the House of Representatives designating the weeks of April 9th and 16th as National Young Audiences Arts for Learning Week (YA Week). This week will honor the contributions Young Audiences Arts for Learning (YA) has made to schools nationwide through arts-in-education programs and encourages Americans to recognize the important contributions the arts make to society.
The House resolution, introduced by Representative Louise Slaughter, co-chair of the Congressional Arts Caucus, and co-sponsored by Representatives Donald Payne (D-NJ), Suzanne Bonamici (D-OR), and Betty McCollum (D-MN) highlights the work of 30 Young Audiences Arts for Learning affiliates. She describes the work being done by Young Audiences as "empowering our nation's next generation of scientists, mathematicians, entrepreneurs, artists, writers, parents, and community leaders, to be innovative, creative, and critical thinkers." As an avid supporter of the arts, she states that "Students engaged in arts learning have higher GPAs, standardized test scores, stronger critical thinking skills, better decision making skills, and lower drop-out rates. Participating in the arts can have incredible benefits on our nation's students". The House resolution also emphasizes that "arts education enables students to develop critical thinking and problem solving skills… which supports academic success nationwide as well as personal growth outside the classroom."
YA Week is being observed across the country in 22 states by the entire Young Audiences network of 30 affiliates. YA affiliates will celebrate this week with special events, school activities, residencies, and performances promoting awareness of YA's arts-in-education programs.
David A. Dik, YA's National Executive Director states "Young Audiences sees the arts as languages of interpretation and understanding. We realize that in the 21st century, written, oral and numerical literacies are just as important as our understanding and application of design, shape, and presentation. The arts offer unique solutions to both simple and complex problems and they are essential to the cognitive and non-cognitive success of young people in our nation today."
Established in 1952, Young Audiences' mission is to inspire young people and expand their learning through the arts. As the nation's largest arts in education learning network, Young Audiences serves more than 5 million children and youth each year in 8,350 schools and community centers across the country through its diverse network of 30 affiliates. For more information about affiliate YA Week events, see press contact below.
CONTACT:
Young Audiences Arts for Learning
Jarred Hoyt 
T: 212-860-1563 X107, E: jarred@ya.org