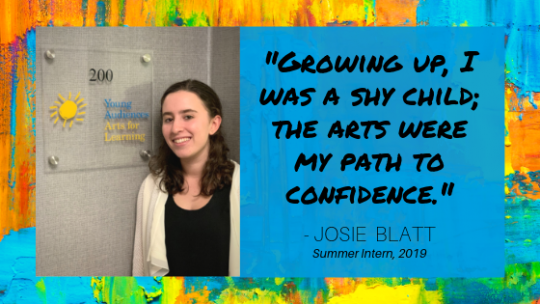 This summer, the National Office of Young Audiences Arts for Learning (YA) welcomed summer intern Josie Blatt, a rising Junior and Sociology Major at Hamilton College. On the last day of her internship, we sat down with Josie to learn more about what drew her to YA, from her passion for the arts to her college studies. Josie also shared what she learned and accomplished at YA, and how she will carry those lessons into her future work.
Q: Describe your interest in and experience with the arts. How has your arts education experience impacted you?
A:  Growing up, I was a shy child; the arts were my path to confidence. I started taking piano lessons when I was in first grade which sparked a passion for music in me. When I discovered that I could sing and play the piano at the same time, that quickly became my go-to method of self expression. Whenever I was anxious, stressed, or even happy, I would, and still do, sit at the piano and sing for hours to work through my emotions. Theater has also been a meaningful art form to me. When I got involved with my school musical in 5th grade, I was able to find my voice, come out of my shell, and leave my shyness behind. Additionally, even today my family often goes to see plays and musicals together. Every time I see a show I am in awe of theater's ability to take you out of your head for two hours and immerse you into someone else's story. 
Moreover, I value the communities that the arts have given me. My school choirs have been some of my most cherished communities. There is a special bond among a group of people who create music together. Because of my excellent school choir experiences, I sought out similar communities in college. I am currently a member of my college's choir and oldest all-women's a cappella group. Some of my closest friends have come from these supportive groups, thanks to the power of the arts. Today, my arts education has given me the musicianship skills to write and arrange music, providing me with even more ways to express myself. I am incredibly fortunate to have had so much involvement with the arts and arts education growing up.
Q: Why were you interested in YA / an art-in-ed internship?
A: Since my arts education was, and still is, incredibly valuable to me, I was looking for internships that would allow me to help provide those valuable experiences to every child and young person. I came across YA during my internship search, and the wide reach and impact that they have, serving 5 million young people each year, stood out to me.
Q: How did this internship fit in with your degree program and career goals?
A: I am a rising junior at Hamilton College, majoring in sociology and double minoring in music and education studies. One of the main reasons why I enjoy my major is that studying sociology provides me with a foundation in understanding human society, applying research methods, and using critical thinking and problem solving skills that are helpful in any career. I have found that sociology is especially applicable to non-profit management work, as I am constantly utilizing the skills that I just mentioned. My musical studies in college have helped me improve my musicianship skills, giving me more and more ways to express myself through music. As a result, I have become even more appreciative of the social-emotional benefits of the arts. In my education studies coursework, I have learned about education policy and issues in K-12 public schools. Specifically, as a part of my education studies minor, I took a course called Theater for Social Change. This course involved working directly with local teens on devising a play to tell a story that they previously struggled to find a way to tell. 
Overall, my studies thus far at Hamilton have inspired me to find ways to help bring the arts to all communities. Though I am still discovering my career goals, I know that I want the arts to be involved in my post-grad life. A goal of mine this summer was to discover different ways to engage with the arts besides teaching and performing, both of which I enjoy, but have already experienced. My internship at YA helped me achieve that goal, exposing me to a wide array of administrative work related to the arts. 
Q: Describe your typical day in YA Office.
A: It is difficult to describe my typical day in the YA office, because I tackled a wide array of tasks. No two days looked identical. However, common daily activities included: creating social media content and graphic designs; assisting with website design and development projects; writing and editing blog posts about news in the YA Network; organizing materials on Learn.YA.org, YA's Learning Management System; editing newsletters and documents sent to YA's affiliate network; managing contacts and constituents on Network For Good; curating ya.org/social through a social media aggregator; observing and participating in Zoom conference meetings; researching recent news in the arts in education field-at-large, and more!
Q: How did your expectations for the YA internship compare with your actual experience?
A: At the start of the summer, I thought that I would be doing administrative work and observing the daily work of the YA national team. While I did some of this type of work, I was delightfully surprised that my supervisors gave me creative control on many important projects, asked me to participate in meetings, and wanted my advice on their work, valuing my voice. 
Q: What was your favorite or most memorable part of you internship experience at YA?
A: It's difficult to pick just one! However, I particularly liked using my creativity to make social media posts highlighting photos of children in YA's programs having a blast while making art. I also enjoyed finding articles about exciting arts in education news and sharing them with the team. Additionally, I love knowing that I was supporting an organization with a mission as important as YA's.
Q: What were some things that you learned over the course of your internship, and how will you carry them into your future endeavors?
A: During my internship I learned not to be afraid to speak up and ask questions. I also learned that I enjoy a small office environment with friendly coworkers like the team at YA! Additionally, I gained valuable communication and computer skills, I developed a strong sense of office etiquette, and I learned how to manage working on many different tasks at once. Nearly all of these skills can be applicable to so many different careers, so I will be sure to draw on what I learned at YA in any role that I may take on in the future.
Q: What advice would you give to future YA interns?
A: I would encourage future YA interns to speak up, ask questions, and be creative! Take advantage of all of the wonderful learning opportunities that YA can offer you.