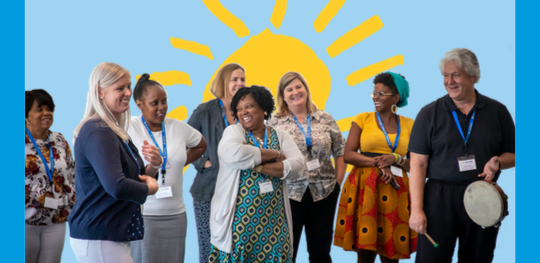 (Credit: Eddie Lanieri Photography)
Back in June, we announced the recipients of Young Audiences Arts for Learning's Professional Learning Travel Award. Attendees of the 2019 YA National Conference, held in Houston, were invited to apply for the opportunity to travel to a Young Audiences affiliate location of their choosing in support of their professional learning, with travel vouchers provided by our partners at Southwest Airlines. 
Today, we want to share with you the learning experience of one of those recipients: Teaching Artist Harlan Brownlee, of Kansas City Young Audiences (KCYA).
Harlan, who is also a YA-Credentialed Teaching Artist, traveled to New Orleans to visit Young Audiences of Louisiana (YALA). There, he met with Jenny James, Director of Education and Programs, and attended YALA's Comprehensive Arts-Integrated School Model (CAISM) Leadership Institute.
Harlan was inspired by Jenny's presentation at the 2019 Young Audiences National Conference. The presentation, entitled "How do Educators Learn Best? Effective Practices for Arts Integrated Professional Development," focused on YALA's CAISM initiative, a USDOE-funded partnership with the Jefferson Parish Public School System. Having worked extensively in arts integration for the past 35 years, Harlan reached out to Jenny to discuss the possibility of attending YALA's Leadership Institute and learning more about the planning and implementation of CAISM. 
Fortunately for Harlan, the Professional Learning Travel Award enabled him to realize this objective, with airfare covered in full by Southwest Airlines. To get a better idea of what kind of advantages the network travel opportunity provided, we asked Harlan to provide a detailed reflection on his professional learning experience.
Read on for Harlan's report of his experience at the Leadership Institute.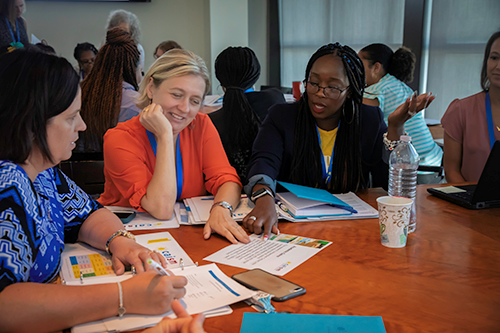 (Credit: Eddie Lanieri Photography)
During my visit to Young Audiences of Louisiana (YALA), I believe I gained the deepest understanding of the following questions proposed in my Professional Learning Travel Award application:
What professional development is being developed for and provided to classroom teachers and teaching artists to implement the adapted Arts for Learning (A4L) Units? What is the scope and sequence of this professional development?
What conditions are needed and what is the most effective training process to build a strong ongoing co-teaching/planning relationship between teaching artists and classroom teachers?
What conditions and/or school culture must be supported by and present in school leadership to maximize the success of implementing YALA's Comprehensive Arts-Integrated School Model (CAISM)?
I participated in YALA's CAISM Leadership Institute at the New Orleans Museum of Art. The Leadership Institute was attended by classroom teachers and school leaders in the Jefferson Parish Public School System, as well as by YALA staff members and teaching artists.
The Leadership Institute consisted of two primary components:
Discussion of project goals and timelines for working with key stakeholders for schools engaged in the CAISM project
Hands-on participation in arts-integrated activities to demonstrate model arts-integrated processes and increase awareness of and comfort with activities
MODELS FOR SUCCESS
There were two models presented which I found most useful and which gave Leadership Institute participants additional insight to help ensure their success.
A) Building Blocks of an Arts-Integrated School, a cycle of elements repeating as many times as necessary without following any specific order – but with all components present and working together simultaneously. These elements are:
Develop: Design arts-integrated lesson plans, activities, and professional development.
Schedule: Make time to implement arts-integrated lessons, activities, and professional development.
Scaffold: Build upon a clearly defined plan of succession and skills needed for advancing arts-integrated lesson plans, activities, and professional development. Seek continued improvement and follow an internal process of planning, implementation, and evaluation.
Collaborate: Work in collaboration with key stakeholders in the design, implementation, and support needed for arts-integrated lesson plans, activities, and professional development.
B) Strategize, Maximize, and Authorize was the second model I can see having most benefit to Leadership Institute participants – composed primarily of elementary school principals and curriculum directors. I was most intrigued by the concept of Authorize. As I reflect on the efforts with which I've been involved to make changes in school culture (and subsequently, school-based instruction) using arts integration models, I believe it is the role of leadership that makes all the difference. A school principal or curriculum director who does not support or see the benefits or arts integration is often the reason behind teachers' giving up or, worse yet, simply leaving the field altogether.
1. Strategize: Effective use of arts integration in a school requires strategy. Adequate time must be allotted for professional development as well as for planning and debriefing arts-integrated lessons or units. Utilizing the expertise of arts educators on staff and partners in the community is key in this kind of work. At the Leadership Institute, the question participants were asked was, "How am I strategizing to allow for effective arts integration?" Suggestions from YALA staff included a Program Year overview:
Arts-Integrated Professional Development (AIPD) Institute – August
Unit Planning Sessions
Residency Cycle
AIPD Institute (for AIPD Program participants only) – January
Unit Planning Sessions
Residency Cycle
Teacher Appreciation Lunch
Ongoing Components, such as Distance Learning and Program Evaluation
2. Maximize: The use of arts integration in a school can be leveraged in a variety of ways to maximize what arts can bring not only a classroom, but to the entire school community as well. Using a great lesson to invite families in, creating arts-based culture builders, kicking off professional development, or beautifying a campus are all examples of how we can maximize the benefits of arts integration. Leadership Institute participants were asked, "How am I maximizing this work?" Suggestions from YALA staff included the following major components:
Professional Learning Institutes for school leadership and staff members
Semesterly arts-integrated professional development residencies (PD for teachers; Direct service to children)
Arts-integrated curriculum
Specialized tools for planning, instruction, and assessment
Distance learning platform
Research and evaluation
School-based Arts Integration Coordinators
3. Authorize: Authorize represents the component where the greatest change can be made to advance a culture of arts integration within a school building. Without this vital third component, the other two (Strategize and Maximize) are compromised severely. Again, the YALA staff had some good examples of how this might be done:
Share wins! Creating art awards, art-based faculty activities, or recognitions of a job well done can go a long way in promoting positive staff culture and creative implementation.
Co-observing and co-debriefing an arts-integrated lesson helps one gain a better understanding of teacher needs and conceptual understandings (as well as misunderstandings). This also helps promote greater interest among the faculty.
Scheduling adequate time for collaboration, with follow-up and guiding questions, helps foster a deeper implementation of work.
STATE LEARNING STANDARDS
Lastly, there was a section of the Learning Institute devoted to observing and assessing arts-integrated activities present in the Louisiana Student Standards. Leadership Institute participants were shown that arts integration strategies connect directly to Louisiana Student Standards and state's Compass rubric. Like the arts, the Louisiana Student Standards require that students have:
Enduring understandings
Relation to process
Reflection and revision
Essential questioning skills
NEXT STEPS
To finish the day, participants were asked once again to consider how they will Strategize, Maximize, and Authorize during the Program Year, and to identify two major goals for their school. Moving forward, participants will work with their schools' Arts Integration Coordinators to create an action plan that meets those goals over the course of the forthcoming school year.
Click to view more photos from Young Audiences of Louisiana's Leadership Institute! 
Thanks again to our generous supporters at Southwest Airlines for making this Professional Travel Award opportunity possible!