The new
National Core Arts Standards website
has been officially launched! The launch event began at 9am on Monday, October 20th at the Microsoft New York Metro District Offices in Times Square with an introduction from Antuan Santana, the Business Operations and Citizenship Manager at Microsoft.
Santana began his welcome with a brief overview of Microsoft's Youth Sparks program and described Microsoft's support of the National Core Arts Standards as a logical extension of their Youth Spark work.  
Microsoft's Youth Spark program was born from their commitment to empower young people through technology and provide opportunities in education, employment, and entrepreneurship in order to bridge the "opportunity gap" for all. Santana then described how organizations and corporations are now valuing creativity as a genuinely important factor that they actively seek when choosing prospective employees. 
The event attendees were then treated to a performance by the talented
Kate Davis
featuring a bass/vocal cover of the Violent Femmes hit "Blister in the Sun." Davis had the audience out of their seats and clapping along with her intriguing rendition of this well-known tune. 
Robert L. Lynch, the president and CEO of Americans for the Arts then shared the history of the National Core Art Standards. The previous iteration of the Core Art Standards was established in 1994 to help "guarantee a quality education, especially for students who study both in and through the arts, whether they're going to be an artist or have a career in something else." Lynch then laid out Americans for the Arts' plan to support local advocacy efforts to work with state education leaders in order to bring the new standards to the forefront of education policymaking. The attendees were then left with one last statement from Lynch that seemed to sum up the mindset of everyone in the room- "Arts education is for all students, in all communities, all states, all across the country."
Ben Folds
, multi-platinum record selling singer/songwriter/producer, and outspoken arts education advocate then took to the podium to share his experiences with arts education and the widespread support for arts education that he sees all the time and that he believes is only getting stronger. He thinks of himself as an arts education advocate who is able to make the issues surrounding arts education transparent. He is able to use his position to make sure that educators and policy makers know that people "will not stand for moving the arts out of the way for 'more important' things" or letting the arts get completely neglected. Folds' then posed the question that has proved to be the driving force for most arts education advocates - "Why can't a science teacher just stop and have music for a couple seconds? Or when you draw a diagram of something in History- why can't that be art too?" His take on this issue is simple, yet somewhat elegant- "To think that you can separate the two is pretty naïve because, that's not the way the human brain is set up." It also showcases his stance on how closely the arts are tied in to a full, comprehensive, and enriching education.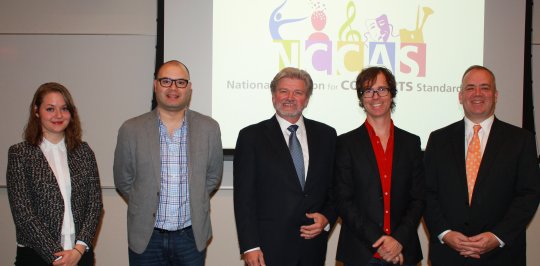 Launch Event Presenters- From left to right- Kate Davis, Antuan Santana, Robert L. Lynch, Ben Folds, David A. Dik
David A. Dik, Executive Director of Young Audiences Arts for Learning, a partner organization in the development of the Core Art Standards, gave a brief overview of what the new standards were comprised of, how they were developed, and what the organizations involved hoped the incorporation of these standards would mean for the education of future students. He broke the name of the standards down word for word, showing that they are indeed an adequate description of this tool- "National" to describe the huge range of national expertise that came together in the form of over 6,000 people to create these new standards. The word "Core" used to describe and continue to enforce the idea that the arts are a core subject and central to learning. "Arts" to describe the aspects of dance, music, theatre, the visual arts and now media arts that are included in the standards. And finally, "Standards". Standards are not taught, they inform curriculum and instruction.
The standards are student centered, requiring the interaction of certified arts educators, classroom educators, and teaching artists, coming together with schools, administrators and parents to make them come to life. They are arranged into four artistic processes, with 11 anchor standards and a series of process components, essential questions and enduring understandings. The website acts as a medium in which the standards are housed, with an easy to use "Create your own Handbook" tool, as well as countless other resources to help educators best utilize the standards.