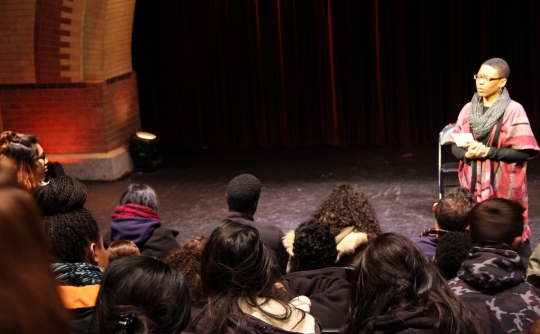 Teaching artist Lisa Strum discussing the novel with student audience
This February Young Audiences New York (YANY) celebrated Black History Month with a performance of James Baldwin's If Beale Street Could Talk. James Baldwin, a seminal African American author, was born in Harlem in 1924, and many of his works reflect the struggle of the Black community during his lifetime. One of his most famous novels, If Beale Street Could Talk, accurately describes the struggle of the black community in Harlem. Though written in the 1970s this piece of literature still reflects some of the social injustices we still face today such as wrongful incarceration and police brutality in the African American community.
Recently YANY was awarded a National Endowment for the Arts (NEA) Challenge America grant to bring arts to students in underserved communities who otherwise would not have access to arts integrated programs. This performance of If Beale Street Could Talk was funded by the NEA grant. The Living Library performance invited High school students to become part of the story at the Harlem Stage, Wednesday, February 10. Actress Channie Waites and teaching artist Lisa Strum collaborated to create this interactive adaptation of Baldwin's novel. The Living Library format weaves the classroom discussion into the performance creating a fusion of critical analysis and artistic appreciation. Through the interactive design of this performance, the students were able to express their thoughts on current issues in our society. "I think the goal is to make connections to the performance and to keep the conversation open, to see what they bring to it so that we're not forcing them to have one particular conversation" states Strum.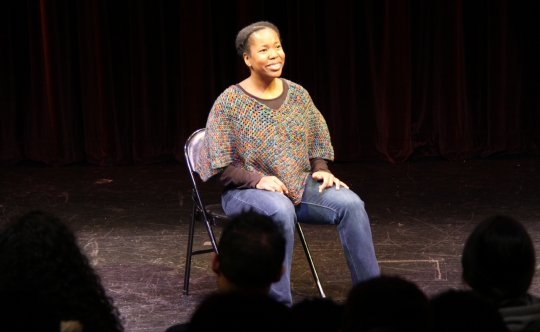 Actress Channie Waites performing one of the characters
Before the performance began, Strum posed specific questions for the class to mull over. She asked them to reflect on current events and in particular how our society handles social injustice. Keeping this in mind, the class watched as Waites began her performance. She acted out each character, telling the love story of Tish and Fonny, and how his family had to deal with his wrongful imprisonment. During the performance, the students were asked to become characters in the story, first as paralegals, interviewing Tish about Fonny, and then as friends of Fonny's, writing him heartwarming letters to help him get through his time in prison. At the end of the performance, Strum addressed their messages to Fonny. "Why do we keep holding on to hope despite injustice?" The students unanimously felt that little has changed from the time when the story took place and many believed that the power of hope was necessary for us to make change, and to move forward as a society.
During the post-performance discussion, many of the High school students were interested in how the story ends and they had an outpouring of questions for Strum and Waites. "They see that the story is not completely resolved, this undoubtingly poses the question of what is next? And in a world where we're all about immediate responses and definitive outcomes - this provides the students a unique time to reflect and contemplate on how the story relates to who they are as people, who they want to be, and whether the barriers in their way are personal or external. And many of the students will go pick up a copy or download Baldwin's work and read it for themselves," states Waites.
Seeing the immensely positive response from the class, it is easy to recognize the importance of exposure to works of literature at this caliber. Authors like James Baldwin, Tony Morison, and Zora Neal Hurston shed light on social injustice. Bringing year-round performances like If Beale Street Could Talk to students is not only beneficial in terms of having a firsthand experience of theatre and literature, but also in terms of sparking a dialog among teens and their peers about issues that affect their generation. 
Contributed by Ariana Smith, Young Audiences Arts for Learning Marketing and Development Intern.