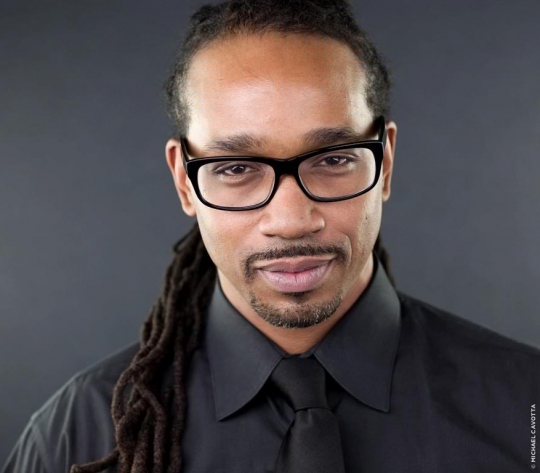 Jimmie Woody
Resident teaching artist in theater arts, digital media, and film at the Center for Arts-Inspired Learning in Cleveland, Ohio. A professional actor and director, Jimmie also teaches acting for the camera and stage at Cuyahoga Community College and works with local community outreach programs. The Center for Arts-Inspired Learning employs more than 100 professional teaching artists who are chosen based on artistic excellence; the ability to effectively communicate with students, teachers, and other artists; and the overall needs of the communities and schools served.
How many teachers does it take to truly engage young students and deepen their literacy, learning, and life skills? With Arts for Learning, the answer is at least two: one classroom teacher and one professional teaching artist. Together they partner to co-teach arts-integrated units of instruction that use particular art forms to explore central texts. 
The partnership between art and education, artist and teacher, begins well before ever setting foot in the classroom. In addition to offering numerous professional development opportunities, the national Young Audiences Arts for Learning organization held two professional learning seminars in 2015 specifically for the A4L curriculum. The seminars, in Atlanta and Houston, brought together educators, teaching artists, school administrators, and other organizational leaders nationwide. This summer, Young Audiences Arts for Learning has organized a professional learning institute in Dallas, Texas, where participants will develop, expand, and launch A4L Out-of-School Time programs for military families.
What was most valuable to teaching artist Jimmie Woody was the opportunity to learn from one another. "We were all sharing ideas about how we engage students and the different ways that work. We knew we could borrow and embellish and make them our own," he says. When he presented his digital project to the group, Jimmie fielded a lot of questions about the camera he used, editing techniques, lighting, and how he achieved such a professional look. His answers gave the participants options, keeping it simple for those less tech savvy and providing advanced versions for the tech hungry.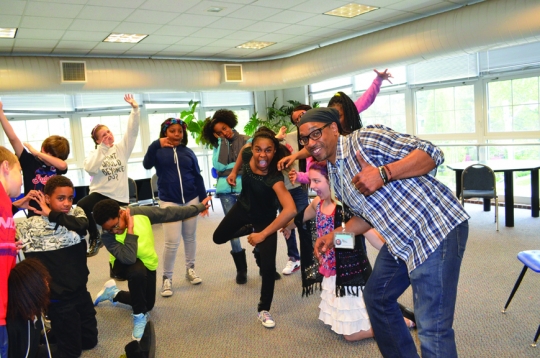 "It was great hearing everyone's perspective and learning how different artists do things," Jimmie says. "I'm in theater arts, digital media, and film, so I was interested in how other visual artists and literary artists approach these same lessons. Now I can use some of their ideas to engage students in different ways. Even though I'm a professional artist, I still consider myself a student. I'm still learning and growing."
In the classroom, Jimmie aims to engage students "in the best way, so they feel good about themselves. Writing and delivering a whole monologue or standing on stage and singing their hearts out can be confidence boosters that students carry with them their whole lives." Through the co-teaching model, he collaborates with and engages the classroom teacher. "I don't want to come in as some outsider and have the teacher take a back seat. Teacher involvement is key, because if students see the teacher isn't interested and engaged, they won't be either."
Jimmie also hopes teachers will expand A4L lessons and exercises into other areas of the curriculum. One teacher at Watterson-Lake School told him, "I can't be you." To which he replied, "No, and I can't be you." He doesn't expect teachers to have his boundless energy or theatrical presence, but they have other strengths and know their students well. If they carry the techniques he demonstrates into other subjects, there's a greater chance for students who learn differently will benefit.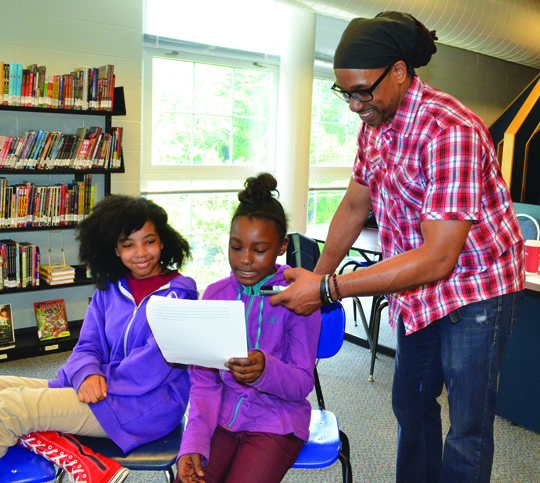 Growing up, Jimmie wasn't one to take notes or write on the blackboard. He needed to find different ways to retain knowledge, and he now draws on his experience to help students. "When working on vocabulary words, a physical act can help some students learn. If I say 'lackadaisical' to fifth graders, they may not know what it means. But if I tell them it's another word for lazy and ask them to show me a physical act to demonstrate that, they will remember the pose they used and link it to the words lazy and lackadaisical."
One lesson classroom teachers have reinforced to Jimmie is the importance of routine. "They build repetition into instruction, and the students both need and want the structure. The same way teachers use routines in the classroom, I use routines in theatre arts because you can't throw new things into the mix before a performance. If you establish and practice a routine of exiting stage left, you can't change it at the last minute to stage right. If you do, I guarantee some kids will exit the wrong way."
When the curtain goes up on student performances, Jimmie could be mistaken for a parent. At a recent tribute to American musical theatre, featuring grades five through eight, he was so proud he had tears in his eyes. "These kids just took it to another level. People often say that student productions are not about the product, but I still worry about the product. These kids work hard for six weeks. I want them to walk away with a great experience – one they can remember proudly and build on in life."