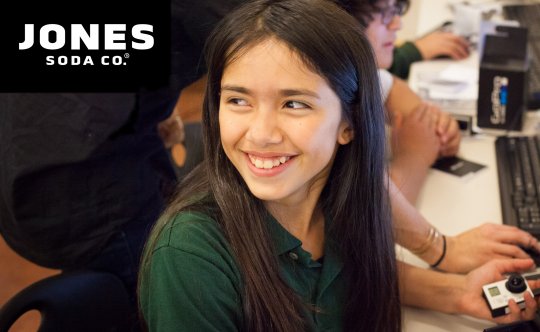 Jones Soda and Young Audiences Arts for Learning (YA) announce their partnership with the launch of the Jones Soda Photography Curriculum, which was created to teach kids about the art of photography. Jones Soda is a leading premium beverage company known for its variety of flavors and innovative labeling technique that incorporates always-changing photos sent in from its consumers. 
The curriculum was first launched at Urban Promise Academy in Oakland, California in spring 2014.
 The 10 week curriculum focused on focal points of photography including; light, composition, perspective, portraiture, landscape, trick photography and experimentation. Jones Soda also partnered with GoPro to bring GoPro cameras to the classroom and students were able to get hands on experience with the most versatile camera to take photos and practice techniques learned during the residency program. 
A special addition to the program was Jones Soda's famed original photographer and designer, Victor John Penner, acted as a mentor for the students, helped with the curriculum and even Skyped in at the end of the program to chat with the students.
Given the overwhelmingly positive response for the program, Jones Soda and YA partnered for a second time in 2014 to replicate the curriculum at St. Martin de Porres High School in Cleveland, Ohio. 
The 18 seniors, who called themselves the "Young Snappers" worked with teacher Danielle Hayes and Cleveland-based artist Donald Black, Jr., a teaching artist with Center for Arts-Inspired Learning (YA's Northeast Ohio affiliate). Leading a series of ten afterschool workshops that explored methods from pinhole cameras to SLR and 35mm, Black guided the students into a deeper appreciation of non-digital technique and composition.
                             Check out this video of the Jones Soda photography program at 

St. Martin de Porres school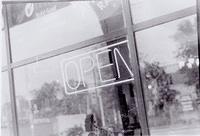 In October, 
Victor John Penner led a Skype conversation with the 
St. Martin de Porres' students. Through a series of discussion and critique, Penner motivated the students with lessons on finding their artistic voice as well as working professionally in a creative field. The students were inspired to do an additional project as an homage to one of Penner's earlier photography series that he had discussed with them. 17-year-old senior Brandi Herring's work, "Open," (above) was selected for beverage bottles distributed across North America (filled with her chosen flavor: Black Cherry).
...
Young Audiences Arts for Learning is greatly looking forward to the future of the partnership. We hope to expand the program to even more of our affiliate communities around the country. Thank you for your support! Learn more about Jones Soda.