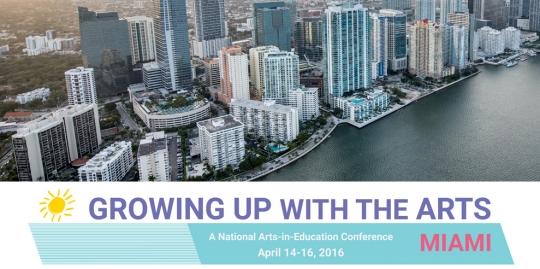 REGISTRATION IS NOW OPEN!
This April, join arts educators from around the country as we head to the sunshine state for the national arts-in-education conference, Growing Up with the Arts, April 14-16 at the luxurious Eden Roc Miami Beach resort. With three days of activities and networking events, this conference has everything you are looking for: keynote speakers who inspire, breakout sessions that focus on important issues and foster innovative ideas and site visits to some the best arts in education programs currently being offered to children in Miami. There are also opportunities for networking and relaxing at this resort hotel.
Learn more at the conference website 
Our conference headquarters, The Eden Roc Hotel, features comfortable guest rooms and meeting rooms, restaurants including Nobu Miami Beach, outdoor pools and a world-class spa retreat.  The special rate for conference attendees is $249 single/double, plus 13% tax.  Each guest room includes wi-fi and access to the ocean-view fitness center.  The special conference rate is available until February 29, 2016.
Attention Early bird registrants. Register for the conference by February 15, and your name is entered in a drawing for a free pass to the Eden Roc Spa Lounge. The spa features massages, facials, body scrubs, hot whirlpools, cold plunges, sauna, steam and hydro-experience showers. 
We hope you will join us for this informative and art-packed conference featuring the best new ideas that are shaping the field of arts in education. 
                                                        REGISTRATION IS NOW OPEN!