MEDIA ALERT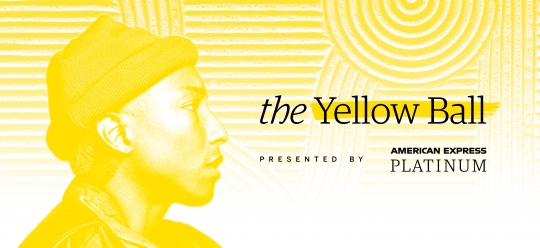 WHO:
Pharrell Williams, Grammy-Award Winning Musician
David Dik, National Executive Director, Young Audiences Arts for Learning
Elizabeth Rutledge, Chief Marketing Officer, American Express
WHAT:
Pharrell Williams will participate in the ceremonial lighting of the Empire State Building in support of Young Audiences Arts for Learning and The Yellow Ball, in partnership with American Express, on Monday, September 10, 2018.
The Yellow Ball, which will take place at the Brooklyn Museum, will benefit Young Audiences Arts for Learning, the nation's largest arts-in-education network whose work strives to inspire young people and expand their learning through the arts. All ticket sale proceeds will benefit Young Audiences Arts for Learning with American Express also gifting $1M to the organization. The event will feature musical performances by Missy Elliott, A$AP Ferg, and DJ Stretch Armstrong, as well as a multi-room art experience from American Express Platinum Collective Member, Daniel Arsham, and a multi-course dinner experience by American Express Global Dining Collection Member Chef Dominique Crenn.
WHERE: 
Empire State Building
350 Fifth Avenue between 33rd and 34th Streets   
Following ceremony, photo opportunity to take place on 86th Floor Observatory
WHEN:            
Monday, September 10, 2018 
Media Check-in: 3:00 p.m.
Photo Opportunity: 3:30 p.m.
CONTACT:      
Rebecca Timms, UEG / Rebecca.Timms@uegworldwide.com 917-595-3170 (for Empire State Building)
Johnny Ubri-Cardona, PMK / Johnny.ubricardona@pmkbnc.com 212-373-0103 (for Pharrell Williams / American Express)
David Dik, Young Audiences / david@ya.org 212-831-8110 (for Young Audiences)                
* Please RSVP to confirm your space! 
 
About the Empire State Building
Soaring 1,454 feet above Midtown Manhattan (from base to antenna), the Empire State Building, owned by Empire State Realty Trust, Inc., is the "World's Most Famous Building." With new investments in energy efficiency, infrastructure, public areas and amenities, the Empire State Building has attracted first-rate tenants in a diverse array of industries from around the world. The skyscraper's robust broadcasting technology supports major television and FM radio stations in the New York metropolitan market. The Empire State Building was named America's favorite building in a poll conducted by the American Institute of Architects, and the Empire State Building Observatory is one of the world's most beloved attractions as the region's #1 tourist destination. For more information on the Empire State Building, please visit www.empirestatebuilding.com, www.facebook.com/empirestatebuilding, @EmpireStateBldg, www.instagram.com/empirestatebldg, www.youtube.com/esbnyc or www.pinterest.com/empirestatebldg/.
About Empire State Realty Trust
Empire State Realty Trust, Inc. (NYSE: ESRT), a leading real estate investment trust (REIT), owns, manages, operates, acquires and repositions office and retail properties in Manhattan and the greater New York metropolitan area, including the Empire State Building, the world's most famous building. Headquartered in New York, New York, the Company's office and retail portfolio covers 10.1 million rentable square feet, as of June 30, 2018, consisting of 9.4 million rentable square feet in 14 office properties, including nine in Manhattan, three in Fairfield County, Connecticut, and two in Westchester County, New York; and approximately 700,000 rentable square feet in the retail portfolio.
About Young Audiences Arts for Learning
Established in 1952, Young Audiences Arts for Learning's mission is to inspire young people and expand their learning through the arts. As the nation's largest arts-in-education learning network, Young Audiences serves more than 5 million children and youth each year in 8,000 schools and community centers across the country through its diverse network of affiliates. Visit www.youngaudiences.org.
About American Express
American Express is a globally integrated payments company, providing customers with access to products, insights and experiences that enrich lives and build business success.  Learn more at americanexpress.com and connect with us on facebook.com/americanexpress, instagram.com/americanexpress, linkedin.com/company/american-express, twitter.com/americanexpress, and youtube.com/americanexpress.
Key links to products, services and corporate responsibility information: charge and credit cards, business credit cards, travel services, gift cards, prepaid cards, merchant services, Accertify, InAuth, corporate card, business travel, and corporate responsibility.
###