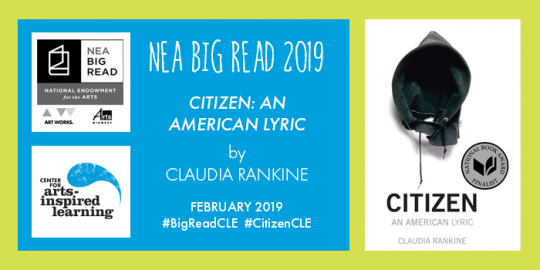 The Center for Arts-Inspired Learning (CAL), Young Audiences Arts for Learning's Cleveland, Ohio-based affiliate, is one of 79 non-profit organizations selected to host a National Endowment for the Arts (NEA) Big Read program, an honor the organization has received for a second consecutive year. 
Residents in Cuyahoga County will have the opportunity to participate in Cleveland's NEA Big Read celebration of Claudia Rankine's "Citizen: An American Lyric," thanks to a US$15,000 grant in combination with expanded community partnerships and programming options. Programming begins in February 2019, and events will include: book discussions, movie screenings, poetry and creative writing workshops, and a county-wide poetry slam presented by Lake Erie Ink.  
"Thanks to our growing list of community partners, this year's read is truly a BIG read. It is our hope that residents throughout the county will engage with 'Citizen: An American Lyric' and find meaningful connections to their daily lives," said CAL Executive Director Marsha Dobrzynski. 
In partnership with Arts Midwest, the NEA Big Read deepens our understanding of the world, our communities, and ourselves through the joy of sharing a good book. This year's book choice of "Citizen: An American Lyric" selected by CAL aims to encourage a healthy and respectful dialogue of potentially uncomfortable subjects, as well as well as breaking down negative racial stereotypes and its impact on our local community.
"This program encourages people to not only discuss a book together, but be introduced to new perspectives, discuss the issues at the forefront of our own lives, and connect with one another at events," said NEA Acting Chairman Mary Anne Carter. The NEA Big Read presents a diverse range of contemporary titles that reflect different voices and perspectives, aiming to spark conversation and discovery. "The National Endowment for the Arts is proud to support opportunities for communities across the nation, both small and large, to take part in the NEA Big Read," said Carter.
Since 2006, the NEA has funded more than 1,400 NEA Big Read programs! More than 4.9 million Americans have attended an NEA Big Read event while approximately 82,000 volunteers have participated at the local level and 39,000 community organizers have partnered to make these events possible. In addition, Big Read activities have reached every Congressional district in the country. Over the past eleven years, grantees have leveraged more than US$44 million in local funding to support their NEA Big Read programs.
Click here to read the full announcement from CAL.
To learn more about CAL and their arts-in-education programming in Ohio, visit their website at: https://arts-inspiredlearning.org/