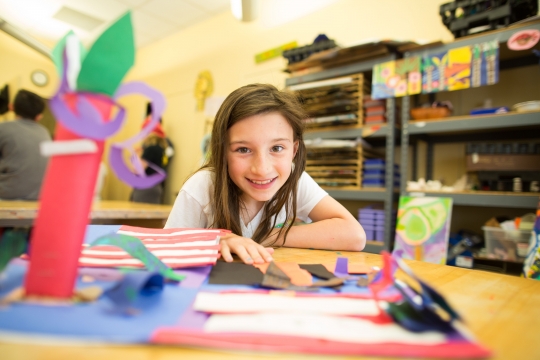 Jen Lawson 
Teacher at Hillside Elementary School in Fulton County, Georgia. Jen was one of a handful of fifth grade teachers who were the first to be trained in implementing Unit 6: Authors and Actors, in the Arts for Learning program, at the Woodruff Arts Center in Atlanta. Unit 6 gives students the tools to explore experiences in their own lives and to communicate their stories to an audience through writing and performance. As a culminating event, the class creates a theater presentation for an audience of families, students, and teachers. 
Jen Lawson was a 14-year veteran of elementary school teaching by the time she encountered her initial training in the Arts for Learning (A4L) curriculum. Her school, Hillside Elementary in Roswell, Georgia, was among those chosen to pilot the A4L program, and she joined several colleagues in the first training session held at Woodruff Arts Center in Atlanta. 
"The training for Unit 6, Authors and Actors, was amazing," Jen says. "Barbara O'Brien and Rebecca Pogue, both from the Alliance Arts for Learning Institute, and a teaching artist were part of the training each of the two years we participated in the program." John Jaramillo, a pueblo from New Mexico, taught various forms of dance, including traditional, modern, and Native American dance the first year, when Jen taught fifth graders. In year two, when Jen taught science and social studies to third-through-fifth graders, Barry Stewart Mann brought a different perspective as an actor, writer, educator, and storyteller.
During the training, the teachers became students, walking through each unit and participating in the different learning exercises to get a good grasp on how things were done. "Reading the manual was helpful, but I'm a visual person, so it helped to see what things looked like," Jen says. "We were given guidance on the structure and steps we needed to follow, but we also were shown additional things to make the lessons our own."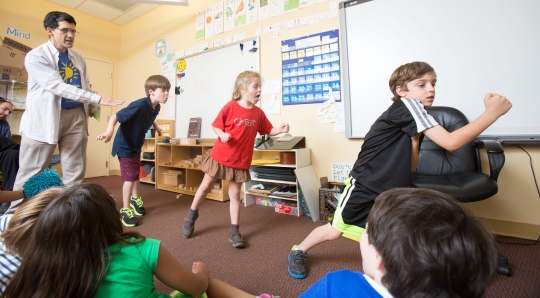 Word Whip, a word-association exercise, is one of several learning strategies Jen latched onto from A4L to incorporate in different areas of her classroom curriculum. "I started using Word Whip in fifth-grade math, and it was remarkable to see how vocabulary would increase by the end of the lesson," she says. "I also use it in science, social studies, and writing lessons because it engages students and gives them a better connection to the subject. And if they're stuck on finding a word related to the topic, there's always a safe word they can use."
Jen looked to the teacher training as an opportunity to integrate herself into the A4L program, which she distinguishes as a deeper involvement than just presenting the lessons. When the teaching artist would do Word Whip or a theater technique called Statues, Jen was right there alongside the students, so she could be active in the program with them.
At first she thought it would be challenging to incorporate A4L into the state requirements for teaching in the classroom, but her concern was short-lived. A4L is aligned with the Common Core State Standards for reading, writing, speaking and listening, and language. "Once they told us, and showed us, how A4L lessons matched up with standards we were already responsible for teaching, it was easier to do—and easier to let go of some of my automatic routines."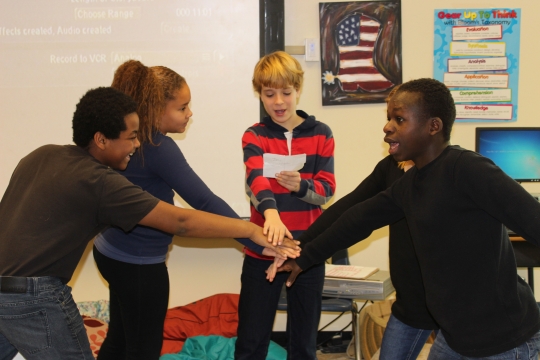 She cites the teaching artists as one of the best elements of the program. "First John and then Barry were amazing with the kids. They really made them feel comfortable, and they made me feel comfortable, too. The artists were very flexible, allowing us to find alternate ways if something wasn't working for our kids. As long as we followed the foundational steps of the program, we could make changes that were better suited to our classroom."
The flexibility of teaching artists was made clear by one memorable example. In the second year of the program, a group of Hispanic boys asked to do their final performance in Spanish. Barry is bilingual, and he helped them with translations and preparing their presentation. "Barry was very open to having the students perform in Spanish. And it was neat to see them tell their own story, one that was very personal to them, and have them communicate in a way—and a language—that gave them confidence." 
Jen says A4L was an eye-opener for her that definitely changed the way she teaches, even after 14 years in the classroom. She may not use the strategies and techniques every day, but they're always in the back of her mind. She continues to ask herself, "What can I do to bring a little A4L into what I'm teaching? And I continue to have a dialogue with the A4L staff and to think of new ways to integrate the arts into my teaching."
Of the overall program, she says, "I found A4L to be an amazing experience. It's a physically and verbally active program that engages students, and it was exciting to see the impact."