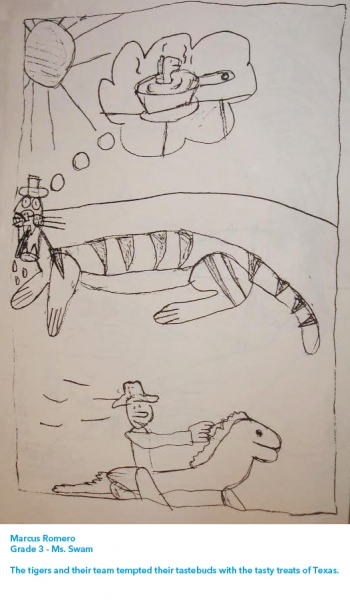 In celebration of Arts in Education Week, an advocacy event organized by Americans for the Arts, I wanted to write about my first real and satisfying experience making art. Throughout my life, I have always had a strong interest in the arts. One standout memory was in third grade, when my school, 7th District Elementary, created a short illustrated book titled Mischief in the Jungle. Two illustrations were chosen from each grade and mine happened to be one of the illustrations published in the final version (see the salivating tiger illustration). I continued to do well and was later selected to be in the Gifted and Talented Arts program in middle school.
At the time, I liked the arts, however, I didn't have the passion and commitment that I would feel in just a few years. I was also feeling frustrated and out of place at my local middle school and my Mom suggested that I apply to the Carver Center for the Arts and Technology, in Towson, Maryland. I was in the eighth grade and had a month to prepare for Carver's entrance exam – an intense portfolio review and an in-person drawing challenge.
One problem, I didn't have a portfolio, and some of my middle school art works – a badly formed pottery assignment, a terribly stiff self-portrait from a photo and a watercolor still life – just weren't very good. Putting together a competitive portfolio is time consuming and difficult. When I was in college, I remembered this experience in middle school and it inspired me to teach in the Cooper Union Saturday Program, where I helped high school students build their college portfolios. My brother who recently read Hamlet was inspired by the grave digger scene in Act 5 that introduces the skull of Yorick. He had a plastic skull and suggested it would make a "serious" still life. He shined a bright spotlight on the skull and I quickly started learning about how light and shadow could create the illusion of form. I started my drawings, working through a large pad of newsprint with a box of vine charcoal.
Page after page, I drew the skull using the white contrast of the page and the darkness of the charcoal. When I was done, my brother would critique a few of them. After several days of practice, my eyes were sharper - adapting, and noticing the different values of the charcoal. I could now differentiate between varies degrees of light and dark and my drawing sensitivity was increasing. My eyes were like muscles, growing stronger.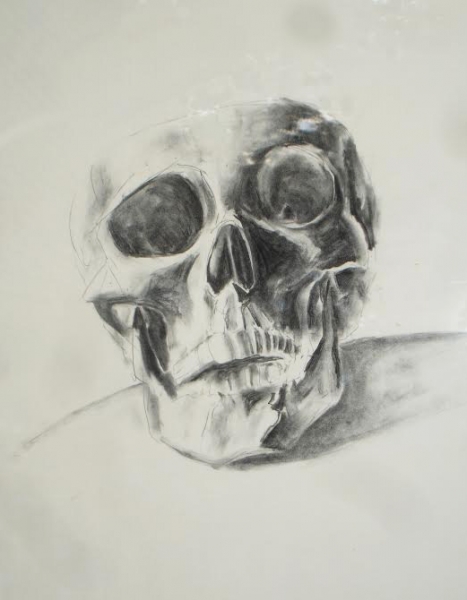 One or two of these drawings looked really good - stark, and fluid. It was an odd and unique connection that formed in my mind- I was beginning a search to capture something elusive and personal. At the time, I didn't realize how consuming and sometimes rewarding this pursuit would become. With this first taste, I aced the portfolio review and was accepted to Carver Center. Going to Carver was an incredible experience that shaped my future as a creative person – with this immersive arts experience, my grades rose drastically along with my academic focus. I would like to thank all my teachers, especially Joe Giordano, Terry McDaniel Shovlin, Lee Boot, Charlie Schwartz, Ms. Swam and the late Chick West. Even today, this need for artistic discovery still drives me when I work in my Bushwick art studio in Brooklyn. The visual arts, as a creative mechanism never goes away, even decades later the drive and passion for the arts is still there.
Contributed by Marcus Romero, Director of Communications & New Media
Young Audiences Arts for Learning