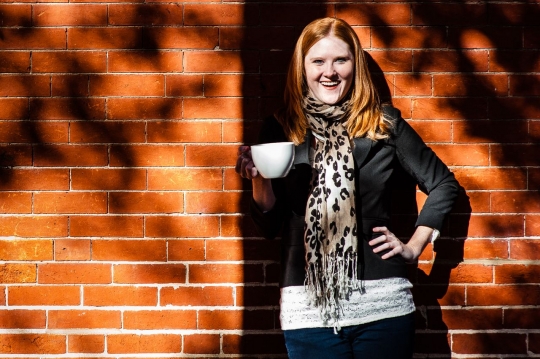 Sheena Jeffers, Arts Integration Director, Young Audiences Arts for Learning Virginia
Who doesn't know the story "The Three Little Pigs"? Houses built of straw, sticks, and bricks. A big bad wolf huffs and puffs. Only the brick house stands. The wolf is defeated.
In a traditional classroom, this might have been a reading lesson. Kids sitting at desks. Books in hand. Maybe the teacher would introduce the students to a story map as a visual reference for the characters and elements involved. Then they would move on to the next lesson in the curriculum.
As Sheena Jeffers tells it, the Arts for Learning (A4L) approach creates investigative readers who take ownership of their own learning process. In 2015, she worked as a teaching artist alongside Suzanne Byman, the third-grade teacher at Tarrallton Elementary School in Norfolk, tackling student deficiencies in reading comprehension through movement and theater.
Together they presented the A4L unit Character Clues in Action. The little pigs were still front and center, but primary literacy concepts and skills were designed into the lessons. These included character perspective, character traits, making inferences, and recognizing story elements.
Sheena met with the class of 10 girls and eight boys for five hour-long sessions. Instead of sitting behind desks, students were taking part in theater games and dance warm-ups. They were moving around, acting out roles, working with others, and writing their feelings in student notebooks. "They would be totally committed to the scene, acting in the moment, and we would say, 'Pause! Go back to your notebook and write down your feelings.' Their pencils would be moving as quickly as possible as the students tried to jot down everything their body was experiencing," she says.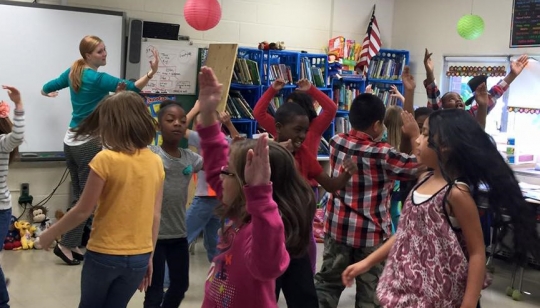 Sheena leading the class in a A4L dance warm-up.
For character feelings of anxiety or fear, they might write, "'My shoulders are all scrunched up, and I can feel my eyes are squinty.' So they began to recognize the different ways of carrying emotions in their body, and they were using their words to describe how it feels to be scared or confident," Sheena says.
There was so much activity in the classroom, another teacher asked Sheena what they were doing. "She said, 'I can hear the learning!' The kids were involved and asking questions. They were excited about giving answers and drawing their own conclusions. The momentum never slowed down."
Now that the Tarrallton teacher has been trained in the A4L curriculum, she intends to continue the program on her own, without a teaching artist in residency. That leaves Sheena and other teaching artists free to start the program in another school in a new school district.
What wins over educators and administrators is results, Sheena says. "By the end of our classroom experience at Tarrallton, the students had improved their ability to infer by 33% and to identify story elements by 11%."
She also cites results from using A4L as a guide for theater camp. The students not only investigated the story being studied, they wrote their own plays using the inferences and story elements uncovered during their investigation. Then they designed costumes and figured out the blocking for their final performance. These students improved their ability to infer by 30% and to  identify story elements by 36%.
"We are engaging students more deeply by integrating arts into the classroom, and many go on to seek further knowledge or classes as a result. I know little girls and boys who have signed up for dance classes after an A4L program. One student found a violin at a yard sale and is now practicing at home. Others have signed up for art classes because they want to learn more about how to paint or make a statue," Sheena says.
"We are teaching a core curriculum, but we are also inspiring a new generation of artists. This work is magical, and not enough people know that yet."
Learn more about the Arts for Learning curriculum.