Richard Stoltzman is a world-renowned clarinetist who has played with more than 100 orchestras, as well as with many chamber groups and solo recitals. Stoltzman has received numerous awards and has produced an extensive discography. In addition to classical repertoire, Stoltzman also plays jazz. He has been a member of the YA Advisory Committee for over 25 years and was elected to the National Board of YA in 1995. He makes appearances and conducts master classes whenever possible in affiliate communities. I recently had the pleasure of speaking with him on his 70th birthday.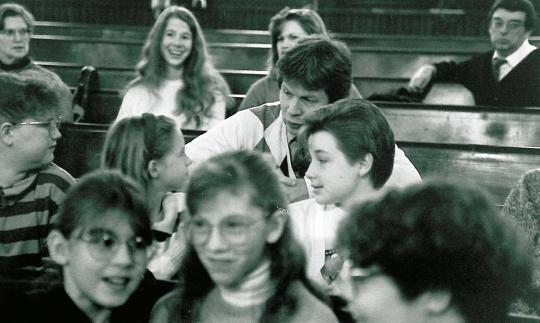 Liane McAllister: How has your involvement with Young Audiences impacted your life?
Richard Stoltzman: Young Audiences is a recognition of many parts of society looking for the same kind of value and artistic inspiration. This includes everyone, if you are a board member, a teacher, or a performer, you have to look back, dig deep and find this place where you can remember being inspired and being taught with a kind of magic. Perhaps this certain magic was music, dance, or drama, but what is important is that it brought you into a more profound awareness. Young Audiences has done that for me and these discoveries that you make with the help of a good teacher or with a wonderful YA person stay with you forever.
LM: When did you realize the importance of being a Young Audiences' performer?
RS: I started realizing it when I went into the classroom, being invited by an orchestra to do outreach programs in schools. The children opened up their ears, their eyes, and their sensibilities. It was one of the things that made me happy to be alive along with other simple pleasures, like putting the clarinet together and using bamboo to make vibrations and sound. These are some basic things that kids can grasp when they're very young. They are open to these sounds that spark their imaginations and Young Audiences does this: it catches the kids, before they become completely bombarded by stimuli, so they have a chance to learn about themselves through the arts. Young Audiences has been bringing art experiences into children's lives for almost sixty years. Sixty years is a lot of experience that boils down to a tremendous amount of wisdom.
LM: You have been involved with Young Audiences since the 1970s. What do you think are some of the organization's biggest transformations?
RS: The organization has incorporated the passion and the needs of the teachers. In many communities, Young Audiences has become an integral part of the education process and teachers are depending on it more and more, and the community sees them as an overflowing reservoir of help. We are able to do more with less than any other organization that I know.
LM: And you believe Young Audiences is getting better?
RS: Yes. Young Audiences does a fantastic job of bringing arts to children, but nationally, it is one of the best kept secrets. My own colleagues as performers are aware of YA to a certain degree, but they don't know about the tremendous passion of the YA network. Without YA, we (artists) will become extinct; it behooves the greatest artists to give the name of Young Audiences a face. I would love to have Young Audiences on the lips of everyone who cares about the arts and to have it come together with other organizations and unite this country in the arts.
LM: And your desire and hope is that YA will be the future leader in arts-in-education?
RS: Speak the name of Young Audiences and you will be enabled, helped, and inspired. It is a passion that begins at a local, grass roots level through your own community. It begins with artists, who are already making beautiful work and who want to be part of your life. Young Audiences seeks those people out, I thought it was the coolest thing when Ms. Leventritt (YA's founder) said "We have these wonderful musicians and we will bring these artists into the schools". She was the true first lady of YA with her friends who rallied great musicians like Isaac Stern and Rudolf Serkin. These musicians who were performing in Carnegie Hall, but who also wanted to enrich children's lives by playing in schools.
LM: And those ladies made it happen?
RS: And they did, those wonderful ladies armed with very convincing arguments and boundless energy- they knew how to get it done. That is how I remember Young Audiences beginning, with these women wanting to bring music to every kid - Starting off with a string quartet and then going on from there.
LM: And they knew how important art is to children?
RS: Yes, because they were children once too. If all of our people in powerful places, in government - could just touch that place that is hopefully not dead in them, back when they were all children. Young Audiences does this by bringing arts to kids and by tapping us adults on the head or in the heart and they say: "wake up and share this with the children, because their minds are open and ready".