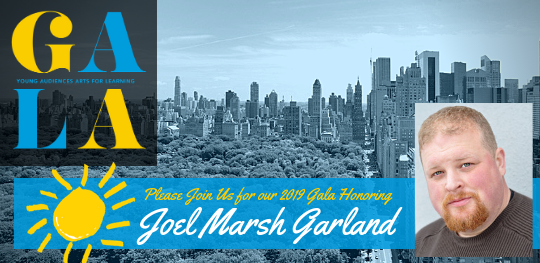 Young Audiences Arts for Learning's 2019 Gala will be held on October 29, 2019. We look forward to welcoming longtime supporters, new friends, and esteemed colleagues to the Mandarin Oriental New York to support arts in education and honor actor and director Joel Marsh Garland.
A dedicated supporter of the arts and loyal friend of Young Audiences, Joel has appeared in a wide range of film, television, and theatrical productions. He is best known for his roles in hit TV series Orange Is the New Black, The Last O.G., and Billions; "Best Picture" Oscar-winning film Birdman or (The Unexpected Virtue of Ignorance); and the 2014 Broadway revival of John Steinbeck's Of Mice and Men. Among his upcoming projects, Joel will play Detective Greco in the film The Grudge, to be released in January 2020.
Joel's involvement with Young Audiences began in 2015 and he has remained a devoted advocate of the organization ever since. His commitment to Young Audiences is rooted in the powerful impact that the arts have had on his education, development, career, and relationships throughout his life. "When I was growing up, participating in theater productions represented an important artistic outlet for me, gave me goals to work toward, and taught me the power of practice," he said. "The communities I became a part of and relationships I developed through theater growing up also had an incredibly positive influence on me. I hear the same thing from so many castmates and colleagues in the entertainment world, who also credit the arts with changing their lives and getting them where they are today."
We invite you to join us in honoring Joel for his commitment and advocacy on behalf of Young Audiences. For more information or to purchase tickets, please visit YA.org/Gala2019, or contact Barbara Davis at 212.831.8110 or barbara@ya.org.