By Liane McAllister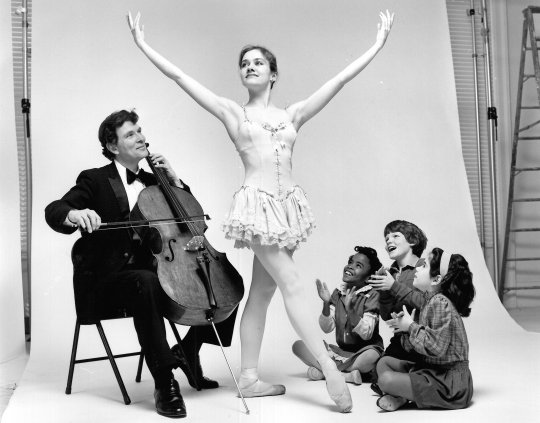 Young Audiences Inc.'s New York Times Ad. November 1984
Young Audiences is the compelling story of an exciting evolution that began with the impassioned dream of three women — Mrs. Edgar Leventritt and Mrs. Lionello Perera of New York City and Mrs. Nina Perera Collier of Baltimore – each determined to share her love of music and learning with school-age children. Over 60 rich and productive years, Young Audiences, Inc. (YA) has become America's leading national arts-in-education organization, now boasting 30 affiliates that present 88,000 arts-in-education programs and professional development services to over 8,000 schools and community sites across the country. Each year, Young Audiences reaches more than six million students and families.
Baltimore, 1950: Where It All Began
At her Baltimore home, Mrs. Nina Perera Collier regularly received well-known musicians, including Sir Yehudi Menuhin, who played to the absolute delight of her children and friends. Inspired by their enthusiastic responses, she arranged for the South American pianist Raul Spivak to give a concert at a local Baltimore public school. Immediately after his concert, the schoolchildren were so engaged by the music that they begged for more programs. Quick to respond, Mrs. Collier arranged for 20 more concerts in the Baltimore elementary schools and her initiative in 1950 is cited as the official founding of Young Audiences of Maryland, based in Baltimore. Thus it was that Mrs. Collier's wonderful idea started an eventual cross-country movement that has introduced three generations of children to the arts.
The New York Connection
Excited about the possibilities of bringing the best classical musicians to schoolchildren, Mrs. Collier contacted her close friends and family in New York: her mother Mrs. Lionello Perera and friend Mrs. Edgar Leventritt, a passionate music patron of many famous classical musicians who played regularly in her Park Avenue apartment. Mrs. Leventritt and Mrs. Perera decided to begin a similar program to introduce public schoolchildren in New York to classical music. Their goal, as stated in a 1952 brochure was "to promote, on a national scale, school concerts of the highest quality. The organization is founded on the conviction that the child is sensitive to the dedicated artist; that he responds to beauty and the best in his cultural heritage. The young listener brought into contact with the truly creative artist, will be inspired, his vision will be widened, his life enriched. In this way, future audiences for good music will be built."
At first, Mrs. Leventritt ran the fledgling program out her apartment and kept files in one of her closets. To help her cause, she enlisted some of her good friends, who were equally knowledgeable and passionate about music. Together they handpicked all the musicians and selected the repertoire for the in-school music programs. The group included Beatrice A. Duggan, Anna Lou De Havenon and Edna Phillips. "These were the first great ladies of Young Audiences'', says renowned clarinetist and longtime board member Richard Stoltzman. He added, "they believed that if great musicians could play in Carnegie Hall, why couldn't they play at PS 61. These early program meetings held at Mrs. Leventritt's home were so energized and dynamic. These ladies knew they could and did get things done!"
During 1952–53, YA's first season as a national organization, 200 concerts were presented by 27 artists in ensembles and solo appearances. These programs took place in New York City, Baltimore, Connecticut, Boston, Philadelphia, Wilmington, Tennessee, Louisville, Indianapolis, Cleveland, Cincinnati, Milwaukee and Colorado.
In 1952, Young Audiences was incorporated, and the founding board included: Rosalie J. Leventritt, chairman; Carolyn A. Perera, vice chairman; Rudolf Serkin, vice chairman; Nina P. Collier, secretary; and T. Roland Berner, treasurer.
The founders also established YA's first Music Advisory Committee composed of seventeen world renowned musicians, including, to name but a few: Mieczylaw Horszowski, Eugene Estomin, Yehudi Menuhin, Isaac Stern and George Szell.
To help her administer the new organization and answer requests for assistance and leadership from communities across the country, Mrs. Leventritt hired Carol Morse as her executive secretary. Carol's role quickly expanded to include programmatic and fund raising duties and she became the organization's first Executive Director. Remarkably, YA has had just five national executive directors in sixty years: Carol Morse (1952-69), Gerry E. Martin (1969-78), Warren H. Yost (1978-89), Richard Bell (1989-2010) and David A. Dik (2010 to the present day).