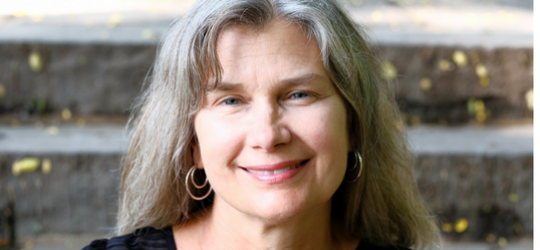 Arts for Learning, the Indiana Affiliate of Young Audiences, Melli Hoppe
Melli Hoppe has a BA in Dance from Columbia College in Chicago and a MFA in Interdisciplinary Arts from Goddard College in Vermont. She was the Artistic Director of Susurrus, an Indianapolis based not-for-profit performance group, from 1993-2013, which received a NUVO Cultural Vision Award. She was selected as the regional artist for the Lewis and Clark ArtsCorps and was awarded a Creative Renewal Fellowship from the Arts Council of Indianapolis. She has choreographed and directed performances in Indiana, New York, Los Angeles, and Ireland.  Melli taught stage movement at Butler University and Columbia College in Chicago and taught dance at Indiana University (IUPUI), Butler University, Broad Ripple High School, and Shortridge Middle School in Indianapolis. Melli is currently a Teaching Artist with Arts for Learning, the Indiana Affiliate of Young Audiences, and recently received a Teaching Artist Certificate from Teachers College at Columbia University.  
Melli's experience as a dance educator, together with her artistic ability as a dancer and artistic director, form a strong base for her many years of experience as a teaching artist. Through the process of making a dance, Melli's workshops assist students to find their own creative solutions while connecting dance to the academic curriculum. 
ARTISTIC DICIPLINES
Dance
SPECIALTY PRACTICE AREAS
Arts Integration
Early Childhood Learning
Professional Development
Special Education
"Pine Receives Grant To Create Book, Dances About Indiana Dunes," The Michigan City News-Dispatch
"Fire, Clay and Just a Touch of Manure," The Michigan City News-Dispatch