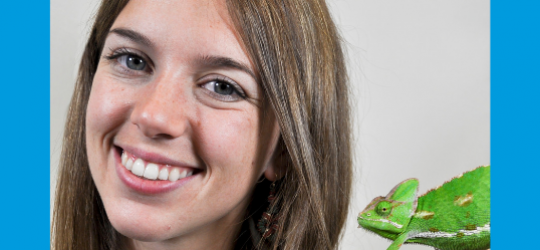 Young Audiences of Maryland, Brittany Roger
Brittany Roger of The Drawing Zoo taught arts integration at The Legacy School, participated in the Kennedy Center's Artists as Educators Seminar and the Teaching Artist Institute, and is a member of the Baltimore Art Education Coalition. She has a BFA in Illustration and master's degree in the Business of Art & Design from Maryland Institute College of Art (MICA). She spent three years at the National Museum of Natural History illustrating squid, cataloging grasses, and photographing snakes.
As a teaching artist with Young Audiences Arts for Learning Maryland, Brittany applies her background in scientific illustration and animal rescue. Her program, The Drawing Zoo, explores elements of visual art in relation to live visiting animals. With her reliable, colorful team (including Camille the chameleon) she hopes to inspire students, build their creativity and confidence, and expand their horizons.
ARTISTIC DISCIPLINE
Visual Arts
SPECIALTY PRACTICE AREA
Arts Integration