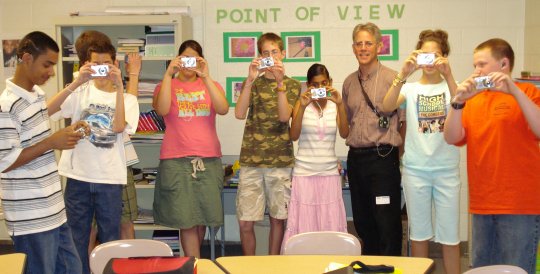 I have been a photographer for almost forty years and I work with Young
Audiences Arts for Learning and VSA. As a Teaching Artist, I work with
students with special needs and I find that people may judge them as
challenged in some ways, but when it comes to working with a camera
and taking photographs, they often show a natural brilliance and talent
for photography. My programs have led to multiple National Gallery award winners. 
For four years running, four 7th graders have won the All Kids Can Create National
Gallery award. And as winners, they were invited to meet Congressman and Senators
at a Congressional reception. This was an empowering experience that changed their lives.
Several parents of the older students noted that they had a hard time
finding developmentally appropriate gifts for their children. But after my
photography residency, my students were so engaged that the parents all
agreed that a camera could be that special gift.
– Craig Norton,