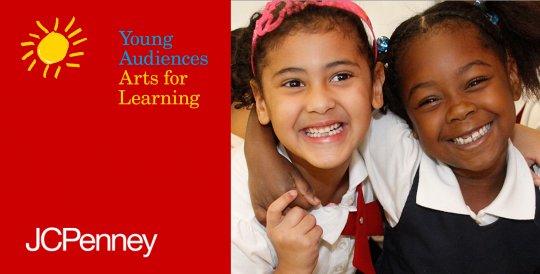 Eligibility: All YA Affiliates  
Deadline for Completed Application: Monday, November 17, 2014; 6:30 p.m. EST
Notification of Award Determination: December 5, 2014
Estimated Number of Awards: up to 8 awards
Estimated Grant Award Range: $15,000-$20,000
Program Activity: January 2015-December 2015 
The JCPenney Arts for Learning (JCPA4L) Initiative provides an opportunity to encourage and support professional staff capacity in understanding the role Arts for Learning can play in the development of arts integration practices in all settings.
Since 2006, Young Audiences has focused on the development, evaluation and expansion of the Arts for Learning (A4L) program, a research-based arts integrated curriculum model and has been proven to raise student achievement in reading, writing and math, while supporting the development of key 21st century learning and life skills.
The JCPA4L Initiative will enhance, implement and assess a more comprehensive program design that is rooted in a co-teaching model that involves classroom teachers, teaching artists and/or arts specialists in partnership with affiliate staff, school administrators and parents. 
See the JCPA4L Grant Guidelines document for more information on:  Eligibility, Grant Review and Reward, Selection Criteria, Application and Instructions.
Submitting your Grant Application 
Please use the Grant Application Form (PDF) below as your working document that can be saved and edited. A good working process is to cut and paste from the PDF into the online grant submisson form. All online submissions that are saved are considered final.
JCPA4L Grant Forms
JCPA4L Grant Application Form (PDF - download and save to your desktop)