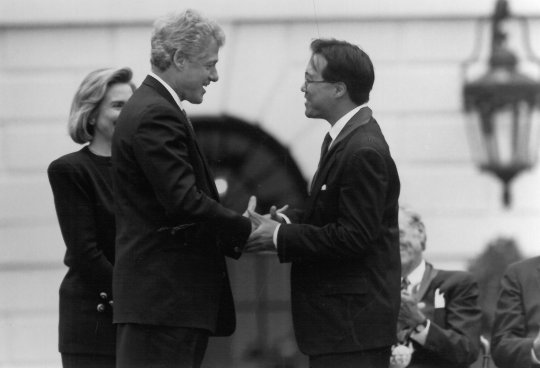 The National Medal of Arts—YA Goes to The White House
Young Audiences was indeed succeeding on a national scale and the role it played in arts, education and how children learn did not go unnoticed. In 1994, Young Audiences became the first organization to receive the prestigious National Medal of Arts in a ceremony held on the South Lawn of the White House. Cellist and National Advisory board artist Yo-Yo Ma accepted the Medal on behalf of Young Audiences from President Bill Clinton. National and YA affiliate board and staff members attended the event.
Young Audiences Chapters and Affiliates
Since its inception, the Young Audiences idea has thrived in communities across the country. Young Audiences is structured as a federation and has 30 independent 501c (3) affiliates. The scope and diversity of the affiliates range from large statewide affiliates to small community based organizations. Network expansion has always been one of the organization's goals. In the 1995, thanks to a planning grant from the John S. and James L. Knight Foundation, YA developed a new chapter called Arts Partners, in Wichita, Kansas. In 1999, with funding from ABIG Foundation and support of cultural leaders in Miami Beach, another new affiliate, Arts for Learning/Miami was born.
The development of these two new affiliates is indicative of the national organization's commitment to work with schools, arts organizations and community cultural resources to provide the best arts programs for children. In other areas of the country, Young Audiences chapters were changing to reflect the needs of their local communities. In Dallas, YA of North Texas expanded its programmatic scope and changed its name to Big Thought. In California two chapters, YA of the Bay Area and YA of San Jose combined to form a bigger and better YA of Northern California. YA of Atlanta merged with the city's major arts center to become Young Audiences Woodruff Arts Center. In other locations, chapters partnered with like-minded arts organizations: YA of Minnesota with COMPAS and YA of St. Louis with Springboard; in Bakersfield, CA, YA of Kern County joined the Arts Council of Kern; and in Denver, YA of Colorado merged with the Colorado Alliance for Arts Education to become the new affiliate, Think 360 Arts Complete Education.
Today Young Audiences continues to welcome new like-minded arts and education organizations. Last year, Gateway to the Arts based in Pittsburgh, Pennsylvania joined the national network. Each affiliate brings a new dynamic and vitality to the Young Audiences network. In acknowledgment of this diversity, chapters are now known as affiliates. However, all affiliates share the dedication to the mission and value proposition of Young Audiences and fully participate and share in all of the organization's national programs and services.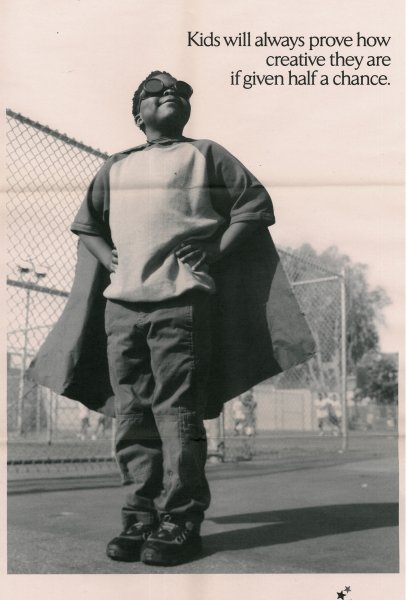 Young Audiences Gold Anniversary
On November 15, 2001 Young Audiences celebrated its 50th anniversary with a gala benefit at the Waldorf=Astoria. The evening recognized the contributions of four long-standing board members: Gretchen Kimball, Sue Ann Weinberg, Joan Warburg and Anne Straus. The evening included performances by clarinetist Richard Stoltzman and his family. On November 16, YA hosted a one-day invitational arts-in-education meeting. More than 150 national leaders in the arts, education, community development, government and business participated in "Young Achievers: A Summit on Arts Learning."The Summit was held at The Doris Duke Studios on 42nd Street.
At YA's century mark, two major programs, Arts for Learning (A4L) and Arts Partners, still led the way in extending the impact of Young Audiences programs. Since its launch in 1998, the Arts for Learning web site grew substantially and included YA affiliates and partnering organizations from coast to coast. After-school and family programs expanded, and new projects were initiated. American Honda sponsored a new recognition program called Dream Lab. Through Dream Lab residencies, artists in schools worked with 4th-8th grade students to produce creative work that focused on improvisation, world cultures and creativity. Other network-wide programs included the MetLife Dance for Life Residencies designed to promote physical fitness and the joy of dance in grade K–12 and Make Your Own Radio Show, a collaboration with the national radio program, From the Top, which celebrates young musicians. As part of that program, Make Your Own Radio Show residencies were developed by YA affiliates.
Student Centered Learning
Active participation in the arts positively transforms the child who experiences it. Throughout the decades, Young Audiences has proven its effectiveness, and its reach and influence has grown, but so has its challenges and the organization continues to optimize the effectiveness of the arts in the educational process. National Executive Director David Dik explains the dramatic shift in arts programming as an "evolution from a service delivery program, offering a catalog of programs and services for schools to buy, to a partnership with schools and teachers where we implement, document and sustain the work.''
"Substantively and most importantly," says David, "YA's new arts programs place the student at the center of the arts learning paradigm, balanced by the supporting team of the classroom teacher, the teaching artist, visiting artist, the school/agency arts faculty, administrators, community leaders and parents. The ideal is to first create the arts network within the school; this model then spreads to the community and then further outward into the state and region. The beauty of this child centered approach is that it is based on individual student needs and the student's best way of learning—whatever that may be - academic, social, kinesthetic, and thus works well for all types of children, including special needs children in the same classroom."
"Arts education is both skills based and standards based, fully cognizant that at each grade level students are expected to perform certain tasks and acquire certain skills. At the same time, effective arts-in-education combines a strong teaching/mentoring process, that together with exposure to high quality art as the primary context, empowers children to step up to the next level as creators and innovators, rather than imitators." Summarizing the multi-faceted impact of arts for learning, David added, "all art forms are strands of literacy with such wonderful elements as color, tone, sound, hue, and light to explore, employ and learn from." The signature program that best exemplifies these new program traits is Arts for Learning Lessons, a program designed to help students in 3rd–5th grades achieve proficiency in reading and writing. Learning scientists from the University of Washington led by Dr. John Bransford, designed the lessons in collaboration with YA National and affiliate staff members. The ambitious program, which was started in 2005, has been sustained by funding from The Starr Foundation, the Ford Foundation, The William and Flora Hewlett Foundation, the Dana Foundation, the Sequoia Foundation and the William Randolph Hearst Foundation.
In 2010, the Beaverton, Oregon school district initiated Arts for Learning Lessons for 1,300 3rd, 4th, and 5th grade students thanks in part to the U. S. Department of Education's Investing in Innovation (i3) grant awarded to the Beaverton School District, YA of Oregon and SW Washington, WestEd and the University of Washington. Eleven YA affiliates also offer Arts for Learning Lesson and Residency programs to individual schools and school districts in their communities. Rigorous testing by WestEd has confirmed the positive results this innovative program has had on raising student achievement in reading and writing nationwide.