Birth of Young Audiences Chapters and Board Leadership
Young Audiences' early efforts focused on expanding music programs in schools through the development of a chapter network. By the early 1960s, major grants from the Rockefeller and Ford Foundations enabled Young Audiences to expand its operations and the network grew to 19 chapters with 60 ensembles giving more than 2,000 programs to a half million schoolchildren. In 1958, Colonel Samuel Rosenbaum, the trustee of the Music Performance Trust Funds (MPTF) supported YA with a matching grant of $50,000 toward the payment of musicians' fees. During the next 20 years, MPTF would contribute more than eight million dollars in matching funds to the organization.
One of the organization's strengths has always been the inter-connections among the various people it brings together from across the country. Without a doubt, the rapid spread and founding of new chapters was due to the board's ability to attract like-minded leaders who would serve as advocates for YA and arts programs in their communities. Current board members agree and say this is a tradition as strong today as it was in the organization's first years.
John Creamer, YA's current vice-chairman and former board president from 1978–1995, observes that board leadership has played an important role in building the relationship between the National organization and affiliates. He attributes YA's remarkable success and expansion to exemplary leadership--in particular to current board chair, Corinne P. Greenberg and the past two emeritus board chairs, J. McLain Stewart (1979–1985) and the late Brooks Thomas (1985–2010). National board member Jan Robertson agrees and noted, "Young Audiences has had amazing matriarchs and patriarchs such as Rosalie Berner (Mrs. Leventritt's daughter), Brooks Thomas, John Creamer, Corinne Greenberg, Anne Straus and Mary Ann Fribourg, all of whom have had the passion and commitment to grow the organization."
Transformational Changes in Arts-In-Education Programs and Engaging Children through All Art Forms
In reflecting on the organization's early program history, Richard Bell, who held the position of National Executive Director for 21 years until his retirement in 2010, describes the original performance-demonstration programs which dominated YA rosters and the evolution in more intensive and complex programming. "For the first twenty years Young Audiences was the leader in performance demonstrations at schools,'' says Richard. "The artists and ensembles empowered the children by performing music, having them ask questions and participate in the performances, so they understood that music is not static, but people can control and change it. Kids' previous experiences with music performances was to just listen. Many orchestras and small ensembles were already doing this, but this had not been done in schools." The early assembly format was typically thirty to forty-five minutes long with about 50% of the program consisting of pure performance, 40% with demonstrations of all the basic aspects of music such as rhythm and dynamics, and the remaining 10% devoted to kids actively participating by coming up on stage individually and in small groups, or reacting as an entire audience.
However, as the organization grew, Young Audiences chapters met the needs and interests of schools and communities by offering a full range of arts programs that included opera, jazz, folk music, dance, and theater programs. In addition to the traditional performance demonstration programs two new programming modes—workshops and residencies—were introduced. Reporting on the dramatic benefits of such residencies, Richard noted, "In the residencies, children learn all about discipline and perseverance, experimentation with observable data to identify a problem and to strive for the better, best and unique solutions. Through this process, children also learn about cooperation and teamwork, as well as leadership. They hone their ability to create their own vision, to share that vision and to get others to help enact this. This all builds a strong foundation for the child's self esteem and confidence."
Silver Anniversary and the YA Sun Logo
On February 27, 1977 Young Audiences saluted National board member and famed opera singer Marian Anderson on her 75th birthday and celebrated its own 25th anniversary at a gala benefit held at Carnegie Hall. First Lady Rosalynn Carter was patroness of the concert and brought congratulatory greetings from President Jimmy Carter. The honorary chairman for the event was actress Helen Hayes. The event received a great deal of publicity in local and national publications including The New York Times and helped raise awareness of YA Nationwide as a source of arts-in-ed programs. Miss Anderson also served as the National Chairman of Young Audiences Week, March 13-19, 1977.
It has been said that people's faces reveal the lives they have led. Perhaps that is true for organizations as well. Young Audiences' "face" is its distinctive logo created by the renowned designer Ivan Chermayeff, of Chermayeff & Geismar. In 1979, Young Audiences adopted the sun logo as its official symbol. The bright yellow sun, drawn in the simplicity of a child's hand, is evocative of warmth, strength, growth, creativity and imagination. In 2005, the national board asked Mr. Chermayeff to update the logo, using the same sun image and lettering but adding a defining declaration to the name: Young Audiences Arts for Learning. The new logo makes the connection between "who" the organization is and "what" it does. It defines the nature of Young Audiences programs: helping young people learn in and through the arts, in schools and communities.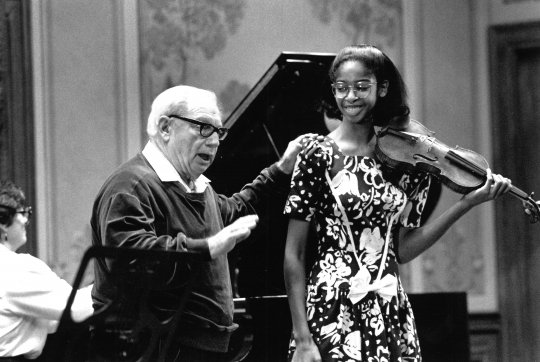 1991 Master Class with Isaac Stern in Cleveland
Reaching Beyond the Classroom
By the 1980s, Young Audiences was truly a full service organization to the arts-in-education community. It was a busy decade and Young Audiences produced books and videos for artist training, developed major partnership programs with cultural organizations, established an Endowment, a Certification program to ensure program quality and began Arts Partners, and a comprehensive arts-in-education program linking schools and community cultural resources with K-12 curriculum. Arts Partners quickly became a model project in many Young Audiences communities. Other ambitious partnership projects included: the Master Artist Series, the Family Festival of the Arts, Run for the Arts, Arts Card and the Arts in Education Institute.
Young Audiences' significant work in arts-in-education continued to garner recognition in local and national publications and in the media. In April 1982, Mobil Oil Corporation made a series of public service announcements that were broadcast on the Independent News Networks throughout the country. Children from Manhattan's Public School 166 were selected to participate in the film project, which featured the Lincoln Woodwind Quintet. In January 1983, Young Audiences gained unprecedented national publicity when Mobil Oil aired public service announcements about YA during the nationwide broadcast of "Nicholas Nickleby." An estimated fifteen million viewers watched the program, firmly placing Young Audiences in the public eye.
During the 1990s, as computers began to play a larger role in the every day world, YA initiated projects to advance arts-in-education through new technologies. A national website was up and running and averaged 2,200 "hits" per month. By 1998, the national organization launched the first Arts for Learning website, an internet and media based professional development resource designed for teachers and artists. It featured programs and projects drawn from select YA roster artists and arts and cultural institutions. In the next decade, thanks to funding from The Starr Foundation and other major corporations and foundations, the Arts for Learning web site would grow substantially, offering access to a rich array of resources for teachers and artists. Roster artists and programs from affiliates in New York, Philadelphia, Atlanta, San Francisco, and Miami were featured on the site.
It had been a decade of significant growth for the YA network and by the close the 1999 school year, Young Audiences artists across the country had presented 82,000 programs to seven million children in 7,024 schools. While striving to keep pace with how children learn in today's world, the organization looked back to its roots and created a new national program called the Classical Initiative. The project, which continues to thrive today, aids the development and expansion of classical programs throughout the network. Young Audiences' broad range of arts-in-education programs now reached a wider demographic of children in grades K-12, young adults and families too. Young Audiences programs, workshops and residencies were now fully integrated into the school curriculum. Increasingly, programs and projects – long and short term– were also presented outside of the schools: in libraries, community centers, job training sites, and juvenile justice detention centers.