Young Audiences of Virginia's Dance for Life Program Brings Creativity Back to Math Class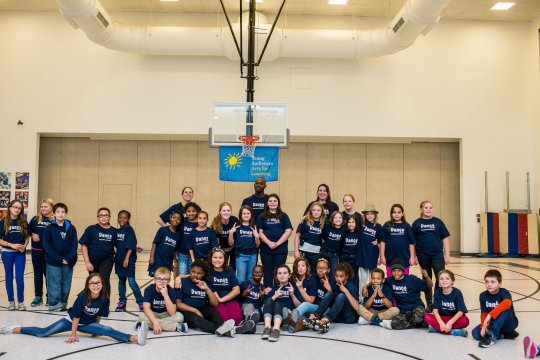 Math is often stereotypically viewed by society in a negative light, as something that must be "survived" in institutionalized educational settings before being dropped completely upon graduation. People of the anti-math persuasion proffer reasons such as "math is too hard" or "too inaccessible" to explain their abhorrence of numerical expression and geometric function. The question that must be asked then is, why this is such a widely pervasive viewpoint? Should we blame the subject itself? Or should we point the finger at how the material is being taught? Is reciting the "times tables" until you're blue in the face still considered an effective teaching method? There are increasingly more and more education theorists and scholars that agree that even in a single classroom, there are many different learning styles represented. If there are many learning styles, why should there be only one teaching style?
Young Audiences of Virginia (YAV) has found what they believe to be a way to make math both more fun, and more accessible. The first step was to change the teaching method to introduce a bit more creativity into the mix by partnering math with an unlikely ally: dance. YAV's Dance For Life Project strives to strengthen student math comprehension and improve understanding of healthy living principles through dance. Over an eight-week residency period, students work with YAV's Teaching Artists – accomplished professional dancers and educators – in order to explore math concepts such as addition, subtraction, and fractions through dance, as well as the basics of nutrition and physical fitness. The instruction focuses mainly on the styles of hip-hop and tap dance, and will culminate in an evening performance to showcase the dance skills and math concepts that the students have learned throughout the residency.
Lead teaching artist Sheena Jeffers, describes her school experience as an "arts-inclined student" who discovered she had a more kinesthetic rather than auditory or visual learning style. 
 

"I craved instruction that kept me moving and kept me curious. Here I was, sitting still at a desk while trying to grasp three dimensional concepts such as planes and rotation; it just wasn't clicking. I needed open space… I needed creativity and innovation to help spark long-lasting connections."*

 
Jeffers found the creative outlets that she needed to succeed when she was accepted into the Governor's School for the Arts - a pre-professional training school that uses arts to build solid foundations for growth and learning – and found that upon entering the school, her grades improved and her confidence soared and helped mold her into the person she is today.
Jeffers' experiences in school fuel her passion for teaching students through dance in collaboration with YAV's Dance for Life Project. She now has the opportunity to give these students what she longed for in her early school days; open space, creativity, energy and innovation in learning.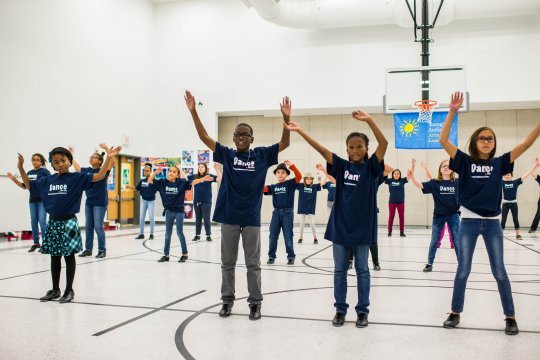 The Dance for Life Project is a new residency program being provided by Young Audiences of Virginia this year. The season started off with an 8 week residency program at Simonsdale Elementary school this September, and continues with its next group of students this January at Churchland Primary and Intermediate School. Each residency program "kick-offs" with an event where parents and their students enrolled in the Dance for Life Project can meet their teaching artists beforehand and can watch them in action through hip-hop and tap demonstrations. Students enrolled in the program will also have the chance to explore and appreciate dance from an audiences' perspective through two different in-school YAV Dance ensemble performances throughout the course of the residency.
Dance and math are two disciplines that are often thought of as complete opposites on the scholastic scale. One is focused on the more subjective concept of 'beauty', while the other - a study of numerical relationships, based in objective fact and logic. These differences might make it seem that they are incompatible with each other, but YAV's
Dance for Life Project
 has found a way to seamlessly meld the two disciplines in a way that enriches the material in both and results in a great learning experience for all involved. 
Funding for the Dance for Life Project is provided in part by Portsmouth General Hospital Foundation, 
Portsmouth Museums & Fine Arts Commission, Portsmouth Service League, 
Virginia Commission For The Arts, and Business Consortium for Arts Support.
To learn more about Young Audiences of Virginia and the Dance for Life Program, visit their website at
www.yav.org
Newsfeed
December 1, 2020