Young Audiences New Jersey & Eastern Pennsylvania Helps Cultivate Young Artists
Each semester for ten weeks, aspiring  young artists in the New Jersey area come together to collaborate, learn, grow, and explore through the arts. These artists are part of the Emerging Artist's Creativity Hub, or EACH for short. EACH is a program sponsored by Young Audiences New Jersey & Eastern Pennsylvania (YA), established with the goal of helping young people acquire knowledge, understanding, and skills in the arts. What is creativity? How do you tap into that creativity to create works that in turn inspire creativity in others? These are some of the questions that the young artists involved in the EACH program strive to answer. The students have come to the EACH because they are passionate about creating art to express themselves and want to learn and become more proficient in not only their main art focus, but in a variety of art forms.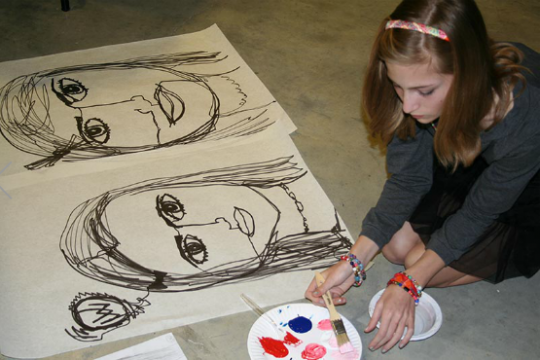 The Emerging Artist's Creativity Hub allows students ages 13-17 the opportunity to gain arts experiences that go above and beyond most high school arts curriculums. Students in the program have the unique opportunity to work with professional working artists who act as their mentors throughout the program, guiding them on their artistic path. During the ten week session, students create individual artworks in many areas, including, but not limited to their specialized discipline. The program also encourages students to work together on projects, which allows for collaborative growth and experience working together as peers to fulfill common goals. These collaborations help build upon skills which are not just a vital part of working in the arts, but are vital in any chosen industry, whether it is thought of as inherently "artistic" or not. In addition to the ability to study under an active professional, the program also affords the students something else that shouldn't be taken for granted- time and space. It is widely acknowledged that a painter needs paint, a sculptor needs their base material, a musician needs their instrument and sheet music, but what is often overlooked is that every artist needs time to create and a space in which they can bring their art to life. YA has partnered with The College of New Jersey to provide space in their Arts and Interactive Multimedia building in which these students can work.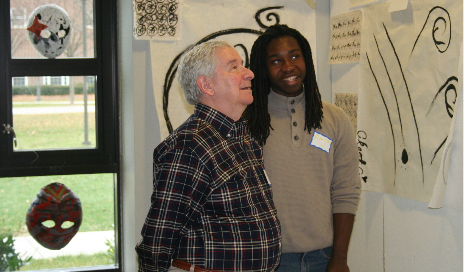 Aaron Wilson Watson with YA NJ & Ea. PA ED Laurence Capo
Many EACH Alumni describe their time in the program as transformative. For some it was through the artistic rigor, for others it simply 
allowed 
them t
o surround themselves with like-minded people and encouraged them to open up and become more confident in their art and themselves. One former student has already found 
his way back to YA, but this time as a mentor instead of as a student. Aaron Wilson-Watson participated in the 2012-13 EACH program as a student focusing on acting, but through his artistic exploration, realized his love of photography and has since become a published photographer and has returned to help inspire younger students in the way he was inspired during his time at the Emerging Artist's Creativity Hub.
"EACH is an amazing and unique artistic experience. It enables me to gather with other young artists and discover something new each week…By being part of EACH, I have learned that possibilities are endless."
-David Jansen, EACH 
Student
This October will mark the fifth year Young Audiences New Jersey & Eastern Pennsylvania will be offering their EACH program. The program is run by Maureen Heffernan, YA's Director of Arts & Education, and Darrell Wilson, a visual artist and professor at New York University's Tisch School of the Arts. The students involved in this semester's program started meeting every Saturday on October 11th at the Arts and Interactive Multimedia Building on the College of New Jersey's Ewing campus. The cost of attending the program is $200, which goes to cover the costs of materials and other necessities, though scholarships are 
available.
For more information about the Emerging Artists Creativity Hub
click here,
or contact Adam Nicolai at (609) 234-9000 ext. 210 or at
anicolai@yanj.org