Young Audiences Arts for Learning Hosts Congressional Steam Caucus Briefing in Washington D.C.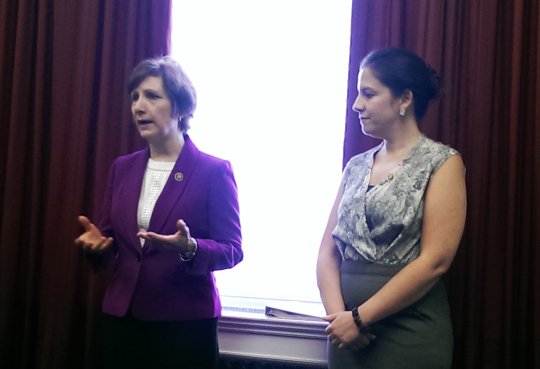 STEAM Caucus co-chairs Suzanne Bonamici (D-OR) and Elise Stefanik (R-NY)
STEAM, a current buzzword in education policy, represents an educational ideology that emphasizes utilizing a curriculum based in equal parts science, technology, engineering, arts, and math (the STEAM acronym) to help prepare students to become competitive leaders in the global workforce. It has long been acknowledged that the STEM portion of STEAM is important for student success, whereas the inclusion of the arts as an equal part of curriculum has often been met with a measure of skepticism.
In 2007, in response to data such as that collected by The Program for International  Student Assessment (PISA), which showed that American students were lagging behind in core areas such as math, reading, and science, the America COMPETES Act was signed into law. The America COMPETES Act focuses on "investing in innovation through research and development, and to improve the competitiveness of the United States" as well as to "increase the teaching and learning of science, technology, education, and mathematics in kindergarten through grade 12". Legislators believed that this emphasis on STEM would be the key to return to the top of the economic and educational hierarchy.
It turns out that this was not the miracle answer to the problem at hand. When the 2009 PISA scores came in, the U.S. had gone from being ranked 29th in Math and 35th in Science, to 31st and 23rd respectively. (
2006 report
,
2009 report
,
key findings
) While experiencing a slight increase in overall science ranking, math scores saw a slight decrease in ranking, indicating that while STEM is of great importance, it cannot be the sole educational focus. The need for something else with the potential to tie together traditional curricular learning and set our students apart was needed, and that need can be met through the arts. 
In a global workforce where innovation is championed, there is a need for people that exhibit traits that focus on "out of the box" thinking which can give them an edge in an ever-evolving market. Countless business leaders have cited the need to foster more creativity and ingenuity, and readily acknowledge that the best way to achieve this is through increased support for emphasizing integrated arts-in-education.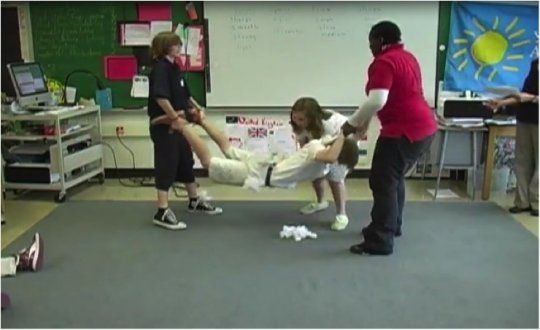 Students in A4L Indiana's "Water Dances" Residency program perform their dance for younger peers
In order to bring attention to the increased demand for highly creative, highly skilled workers,  the bipartisan Congressional STEAM Caucus was formed. The STEAM Caucus, co-chaired by Congresswoman Suzanne Bonamici (D-OR) and Congresswoman Elise Stefanik (R-NY) was formed February 2013 and has brought many organizations such as the Rhode Island School of Design and Young Audiences Arts for Learning together to advocate for the integration of the arts into more traditional STEM curriculum.
Since the STEAM Caucus' inception, Young Audiences has regularly co-hosted STEAM briefings with the Congressional STEAM Caucus in Washington D.C. The goal of the STEAM Briefings is to give attendees a better insight into the work that is being done in schools to help prepare students for college and career readiness through the implementation of STEAM as a pedagogical philosophy. 
For this year's briefing, Young Audiences had the great honor of having both Congressional Co-chairs Suzanne Bonamici and Elise Stefanik present to set the tone for the briefing with opening remarks about why they believe STEAM is important, as well as sharing with attendees instances of great STEAM opportunities within their constituencies. This briefing also served as the first official STEAM Caucus event that Representative Stefanik has attended as the new Republican co-chair for the Congressional STEAM Caucus. Congresswoman Stefanik announced that she would be co-chair of the Caucus last week and we were thrilled that she could participate in it. 
The briefing was moderated by Haden Land, the Vice President of Research and Technology at Lockheed Martin and a passionate STEAM supporter. Through his vast experience and great involvement in the STEM industry, Mr. Land has witnessed first-hand the increasing need for creative thinkers with skills beyond solely being STEM proficient. In his opening remarks, Mr. Land shared that the prevailing mindset of most STEM based businesses now is that "those people with multi-disciplinary skills such as those focused on in STEAM are usually the best people to work with…period". The goal of STEAM is to combine the "hard" science skills with the creative, expansive thinking of an artist.
The STEAM briefing featured two presentations which highlighted some of the work of Chicago Arts Partnerships in Education (CAPE) – the Chicago affiliate of Young Audiences Arts for Learning, as well as Arts for Learning Indiana, the Indiana affiliate of Young Audiences. Stephanie Haines, the Director of Artist programs at Arts for Learning Indiana took attendees through one of their STEAM Residency programs called "Water Dance". The "Water Dance" residency is a five-day residency that focuses on students learning about the water cycle through dance and choreography. The students learn about the different states of matter and how it relates to the water cycle and then are tasked with choreographing their own Water Dances, which are performed for other classes in the school. The ability to learn about the water cycle and to transform that knowledge into a kinesthetic experience helps the students to solidify the information that they are learning into something that is more readily accessible.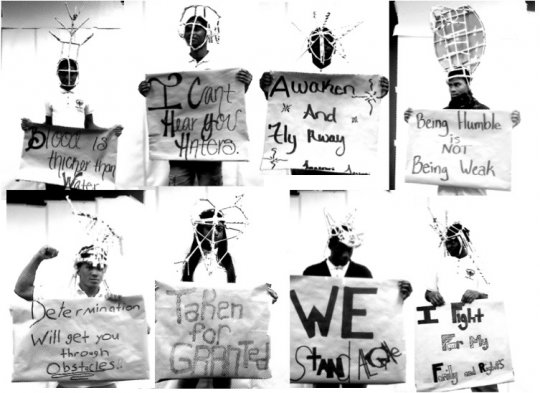 Student edited photos with headdresses and personal motto
Mark Diaz from CAPE then described a program that they had developed that focused on utilizing design and architectural principles to create masks and headdresses out of readily available materials such as newspaper. Diaz described the masks as a way for the students to not hide their identity, but conversely to artistically explore and show parts of who they are that may not necessarily be readily apparent to everyone. The program then ends with an exhibition of the headdresses as well as student-edited photographs of the headdresses accompanied with a motto that the students felt best described them.
This year's STEAM briefing was highly successful and Young Audiences Arts for Learning hopes to continue to cultivate the relationship with the Congressional STEAM Caucus in order to help advocate for the importance of the integration of the arts into traditional curriculum. Young Audiences Arts for Learning would also like to thank Representatives Bonamici and Stefanik for their support of the STEAM briefing and Haden Land for contributing to the success of the event.
For more information about Arts for Learning Indiana and the programs that they offer, visit their website at
artsforlearningindiana.org
For more information about CAPE and the programs they offer, visit their website at
capeweb.org
Newsfeed
November 24, 2020