YANY Brings Parents and Students Together through Family Day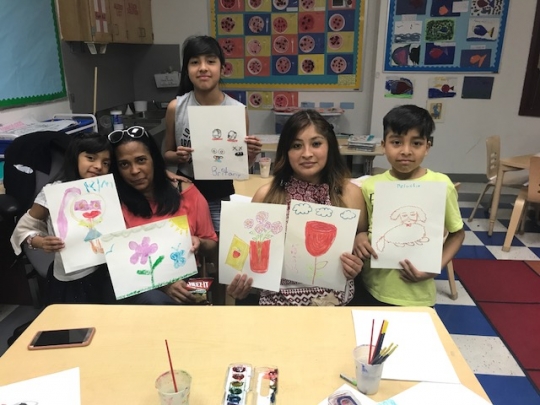 What do the arts do for kids? How does it help them? Their families? Their schools? The answer to these questions are not out of reach thanks to the meaningful work that takes place across the country through Young Audiences affiliate organizations. Young Audiences of New York (YANY) has provided an opportunity like no other for the children of New York City. The programs that YANY hosts are often residencies with teaching artists at local schools. The residencies are repeated sessions with the teaching artist throughout the school year to allow students to really benefit from an all-inclusive arts education. These artists specialize in theater, visual arts, ceramics, music, dance, and digital art. A residency often holds 10-12 students and works with those students to develop useful and developmental skills.
 An event called Family Day held at P.S. 236 Langston Hughes school in the Bronx is just one of many wonderful programs that YANY provides to public schools in the New York area. During Family Day not only did students have the opportunity to express and expand their creativity, but the parents' experienced it as well. This opportunity is one that many families don't often get. Luckily, parents and students could experience this particular kind of interaction at Family Day this past Saturday. 
Each family that participated in this afterschool event was able to go to a multitude of sessions that were held by teaching artists. The artists that were present on Saturday were, Amir Bey doing what he calls "Magic Painting", Anne Pasquale who works with students in acting and writing, Jo Brody with ceramics, Donna Marie with paper puppets, and to top off the afternoon a performance with Feraba; an African dance and music group. This eclectic collection of artists regularly molds the beautifully creative minds of the children that come through this school district and many other alike. 
Amir Bey spoke about the usefulness of incorporating art workshops in the daily life of children. His work focused on combining art and science by using white oil pastels and water color paints. The effect is vibrant and allows for students to explore their artistic ability. Amir said that this is "A great opportunity for parents and children to work together" and that this is "an outlet that breaks the routine".
Anne Pasquale talked about the children she works with, roughly grades 1-5. The kids write their own scripts of famous stories, then perform them. Currently, the children that she is working with are producing a variation of Charlie and the Chocolate Factory. This activity supports the writing skills that students learn in school as well as their interactive abilities. 
Jo Brody's work with the students in ceramics happens twice a week. This art form; Brody had mentioned, allows students to focus and work with their hands. They learn skills like how to glaze, how a kiln works, and how to work with others to achieve their goal. 
Donna Marie worked with paper puppets and collages. This; she had said, gets students to hone their motor skills with tearing and coordinating. The students are given the opportunity to create original works and representations of their favorite characters. 
These teaching artists have one goal in mind, to create a safe and inventive environment for the students they work with. This was brought together during the final performance by the African dance and tap group Feraba. The four members of the group that were present asked the students questions about the instruments, the history, and eventually got both students and parents on the floor dancing to music you couldn't keep still to. These programs provide a unique opportunity for not only children in school to develop their creative thinking, but for the families and communities as well. 
"Your mind is expanding, but there is no pressure. Just fun." – Ms. Camilo, teacher at P.S. 236 Langston Hughes school.
Newsfeed
October 19, 2018