YA Week 2015: YA NY Sets Foundation for Bridging the Opportunity Gap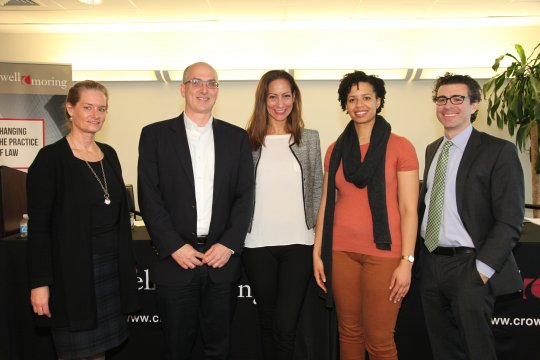 Young Audiences New York seized the moment that National Arts for Learning Week offers to raise an important question: What's the next frontier that children and youth need us to take on in New York City?
As proud 63 year pioneers of making the arts part of education in New York City, Young Audiences New York knows that there is more that the arts can—and must—do to close the opportunity gaps faced by children and teens growing up in poverty (about 21%  of children in NYC). 
To inform action, Young Audiences New York convened a cross-disciplinary panel discussion, moderated by Christine Salerno, Head of Corporate Social Responsibility for Marsh and McClennan and Companies. The panel discussion highlighted current research from the Center for An Urban Future, insights from the Partnership for After School Education, progress and needs from the front lines of community development at the Cypress Hills Community Development Corporation, and promising practices from the Cooper Hewitt National Design Museum.
Here are a few of the key insights for action that rose out of this conversation of consequence.
Out of School Time IS the Opportunity Gap: Alison Overseth, Executive Director at the Partnership for After School Education described how families who can afford to spend money on enriched learning opportunities after school, on weekends and during the summer are doing so at higher rates than ever. As she said, "So, even if you are a child in poverty attending a good school that is providing high quality arts education, there are still gaping holes in your learning experiences because of the loss of enriching opportunities out of school—schools alone cannot overcome these gaps."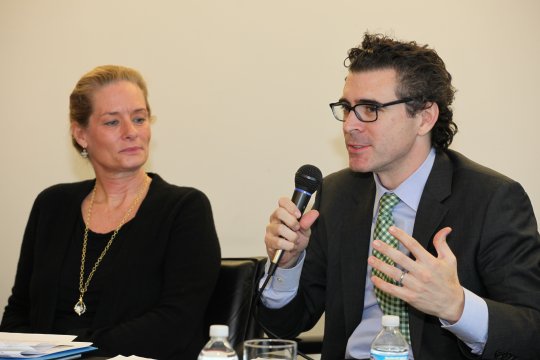 The Creative Economy In New York City Is Growing—But So Is Youth Unemployment: Jonathan Bowles, Executive Director at the Center for an Urban Future noted that the creative economy in New York continues to grow, however, it lacks diversity, while at the same time, the city is facing a youth unemployment crisis and needs to develop a major response.  As Jonathan said, "Where are the middle income jobs in NYC?  They are growing fastest in creative industries including film, architecture, designand advertising…How do we get this growth area more diverse?"
To "Be It" Children Have To See It: Helima Johnson, Youth Programs Manager in Cooper Hewitt's education department described efforts to help young children take on the role of designers as they invent solutions to a variety of problems. As Helima said, "We try to introduce more children to the act of designing—by giving them the opportunity to see themselves in that role—that's the beginning of an introduction to the field of design. Design thinking is important because it helps children understand they are "creative" as in creative thinking and problem solving."
Build Bridges In Communities:  Rob Abbott, Director of Youth and Family Services at Cypress Hills Community Development Corporation reflected that partnering across organizations and from in school to outside school programming in neighborhoods is a positive trend. Community members are seeing that the arts make a difference—building bridges across ages and institutions and helping people be "prosocial" and proactive in solving challenges and creating solutions. Community members are asking for more arts as part of community revitalization efforts. One specific need Rob pointed out: "There is a gap in programming that makes links from arts to careers and creativity in the workplace…..Career awareness programming is very underdeveloped—and would be fantastic."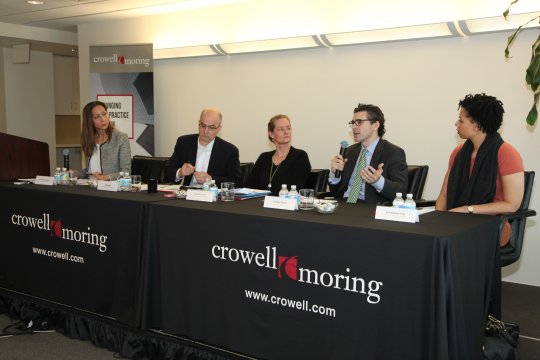 In addition to the insights from panelists, guests from across disciplines and organizations, including the New York City Department of Education, the Aspen Institute, the National Executive Service Corps, the Sea Change Capital Partners, and more, took part in an open forum, further highlighting the importance of putting the arts front and center as part of the solution for closing the opportunity gaps for all young people through collaborative, community focused efforts that include both parents and children.  
As Young Audiences New York Board President, Robert Riesenberg summed up the day: "This conversation shed light on the challenges so many of New York City's children face today. It's great to have new insights and partners as we gear up to do even more, using the arts to create opportunities that so many children don't even know exist!"
Young Audiences New York and Young Audiences National would like to also extend a thank you to Crowell & Moring for hosting the event.
All Photos Courtesy Shulamit Seidler-Feller
Newsfeed
January 16, 2021