Turning Lemons into Lemonade Brooklyn Style: Young Audiences New York Presents County of Kings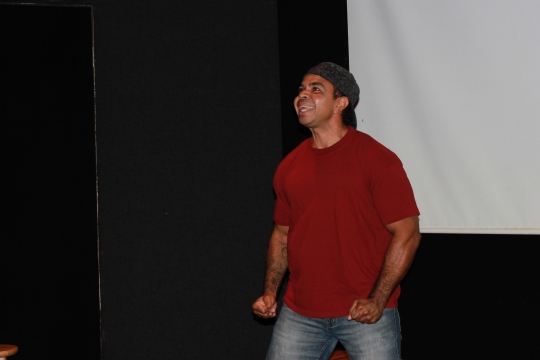 On Monday, September 28, Young Audiences New York (YANY) hosted a Literature to Life performance of an excerpt from Lemon Andersen's memoir County of Kings. The Literature to Life program, initiated by The American Place Theatre, turns the important works of contemporary American Literature into dramatic theater experiences for teens. The performances and post-show workshops invite youth to examine what it means to be a citizen, confronting current social issues of discrimination, racism, poverty and justice, and to explore the role of art in social change. 
Lemon Andersen is an award winning poet whose work draws heavily on his own experiences.  Growing up in the streets of Brooklyn, Andersen knows all too well a life of hard knocks – his mother, a drug addict died when he was young and his step father, who taught him how to steal car parts, was incarcerated for most of Lemon's adolescent years. He describes his troubled childhood and how he overcame it through his unique use of poetry and hip-hop. Andersen's dedication and love of the two art forms allows the audience to better understand and connect to his work. Through the dramatic rendition of the excerpt by a Literature for Life actor, participants examined the stages of Andersen's life, beginning with his rough upbringing, his plunge into a life of crime, and ending with how he overcame these hardships through literature and the arts. This piece shows us how Andersen turned the lemons of his life into lemonade.
Before the performance, teaching artist Fabian Saucedo explained Andersen's connection to the phrase "Turning lemons into lemonade" and asked the audience to apply it to their own lives. With this to reflect on, we dived into the life of a small Brooklyn boy portrayed by performer Michael Angel Viera. Viera's intimate solo performance, where he portrayed multiple characters, is one of the hallmarks of a Literature to Life program. All eyes were glued to Viera as he did a phenomenal job of acting out the mannerisms of each character, as well as giving us a clear understanding of the complexities of the lead character (Andersen Himself). Andersen's life came together through Viera's portrayal of the shift in mindsets between Andersen's adolescent and adult self. The influence that the adult characters in the story had on a young Andersen and the choices he made because of them might be something that children in his position can relate to.
In an interview with the actor, Viera explains how the Literature to Life format is highly effective and he has received lots of positive feedback from his students during the performance and in their post-performance writing prompts. During these writing prompts, students are asked to write their own poems about their daily experiences and thoughts. "This allowed them to get noticed in a positive way, when we opened the door for them to share their experiences and write down what they felt" Viera states.
In terms of incorporating rap into poetry, Viera believes that Andersen uses hip-hop in a different way than most mainstream artists. "The message of hip-hop tends to be destructive by glorifying negative behavior. Andersen's use of hip-hop is positive because it's real. It shows kids that they can choose to overcome negativity like Lemon does." As an actor performing the piece and conveying Lemon's message to students, Viera likens the process to basketball. "I'm the point guard, who gives the assist, so that the students are in a position to make a slam dunk."
If it weren't for Lemon's willingness to learn and commit to his craft, he wouldn't be where he is today.  Teaching artist, Fabian Saucedo believes that this memoir shows kids that discipline isn't a punishment but instead a positive skill that they need to develop in order to succeed. "It's about craft and culture, the artistic process, getting addicted to the process which will spill into other subjects." Not only will this piece help students understand discipline in writing but how to use it in all areas of study. This piece and Literature to Life as a whole will help kids be able to think in a new way.
This dramatic work also facilitated a discussion amongst teachers in regard to understanding how problems at home may be affecting their students and how arts in education can help kids express this. "It's what we believe our kids experience versus what they actually do. . . how can school be a place for them to discuss their experience?" For example, not only can students relate to Andersen personally but the post-performance exercise gives them a safe platform to express what they go through out of class, which they might not otherwise share. "The Post-performance student response is important in creating this dialog, it validates students' voices" says Jennifer DiFiglia Chief Program Officer at YANY .  "This piece will create a dialog not only between peers but for a discussion between teachers and students in the classroom".
County Of Kings is a great lesson in perseverance but more importantly how to use the arts to express one's self through their own culture. "How do we utilize art to help young people turn their lemons into lemonade?" asked one educator.  Most teachers agreed the answer was to give them access to the arts in order to help them expand their minds.  The rap like style of Andersen's work will allow kids who identify with him to connect how their culture relates to traditional forms of poetry, and perhaps give them motivation to explore and appreciate other forms of literature. Many of the educators in the audience felt this example of an author incorporating hip-hop into his writing will validate for students their own cultural background. "We need to hold their culture just as important as society's idea of the classics", said an educator.
This Literature To Life performance was a truly amazing experience.  We can all learn from this dramatic work. Most importantly we come away knowing how to turn lemons into lemonade!
Contributed by Ariana Smith, Young Audiences Arts for Learning Marketing and Development Intern.
Newsfeed
December 4, 2020