Stronger than ever after Katrina: A Spotlight on Young Audiences of Louisiana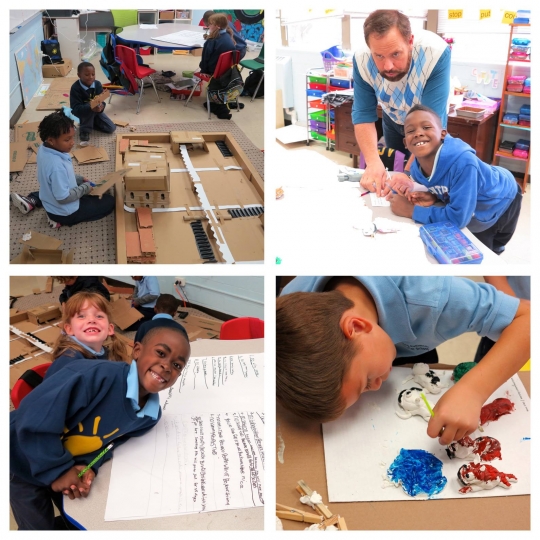 It was August 2005 when Hurricane Katrina devastated the Gulf Coast, from central Florida to Texas. Flooding in New Orleans destroyed homes, lives, and livelihoods. But the people of the city proved resilient, reclaiming their city and their culture.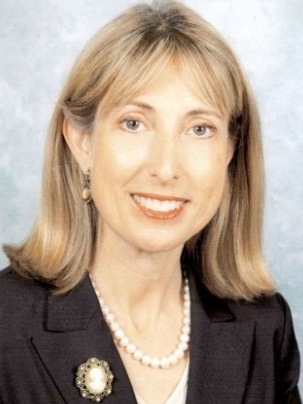 Prior to Katrina, Young Audiences of Louisiana was a mid-size affiliate. "We had slow and steady growth, and we were involved primarily in performance demonstrations and residencies that brought professional artists into the classroom to engage students in creative approaches to learning," says Rickie Nutik (image on the right), who has been executive director since 1987. 
Immediately after Katrina, only Rickie and the associate director, Richard Bates, were left to pick up the pieces. Evacuations had caused the few other staff members to leave, and teaching artists were scattered across the country. The office itself didn't flood, but the building was uninhabitable, and a broken window allowed rain and wind to destroy documents.
"The national organization and other Young Audiences affiliates were incredibly supportive and positively influenced our survival and rebirth, helping us financially and emotionally," Rickie says. The Houston affiliate provided office space, which Rickie and Richard used to reach out and find where everyone had gone. "If artists evacuated to a place where another affiliate was located, that affiliate went out of its way to hire them. That was especially meaningful at a time when artists were worried about making a living."
By November 2005, Young Audiences of Louisiana was one of the first youth organizations to reopen its doors in the area. In fact, the first public school did not open until January 2006. We realized that as families returned to New Orleans, there were few quality programs for their children. In addressing this gap in services, we expanded signature arts in education programs and expanded into the youth development sector," Rickie says.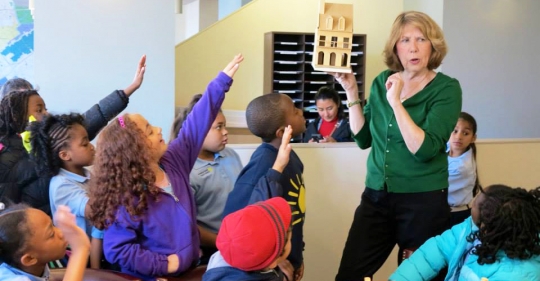 She and her staff took on the challenging task of partnering with other community groups to rebuild a badly damaged education system. Today, Young Audiences of Louisiana has an expanded mission focusing on arts, education, and youth development. It has been awarded several competitive 21st Century Community Learning Center grants from the Department of Education, resulting in partnerships with schools throughout Orleans and Jefferson parishes, to provide afterschool programs to all students, whether schooled publicly, privately, or at home. Students attending these programs have achieved improved test scores, fewer absences, and significantly decreased disciplinary actions.
Working with the schools in the post-Katrina days, "We saw they were doing a good job of focusing on raising academic performance, but there wasn't a well-rounded approach to teaching the whole child. They were missing the benefits of an arts integrated program, one that supports creativity, problemsolving, team-building, and analytical skills," Rickie says. This led to a two year effort to develop a charter school education model that would accomplish all these things. Academic requirements would be integrated with five art disciplines – literary arts, music, dance/movement, drama, and visual art – offering students additional learning opportunities and multiple ways to understand content.
In the fall of 2013, the Young Audiences Charter School opened in Jefferson Parish, serving students in kindergarten through third grade. Each year as a new class enters, the school expands and will eventually serve students through eighth grade. Now in its third year, there are nearly 600 students in kindergarten through fifth grade, and the school has outgrown the space it leases from the school district.
Every grade level teams teachers with a teaching artist. All students attend twice monthly performance demonstrations, and additional artists are brought in for residencies that connect to academic lessons. There is also a robust after-school program that about half the students attend. "This is where students have the opportunity to get more involved in arts instruction. There are several ballet classes, Brazilian dance, a school band, a drumming class, violin, and visual arts, as well as gymnastics, robotics, and chess club. It's a full service after-school program, and we try to connect as much as possible with the regular school day," Rickie says.
While Hurricane Katrina permanently altered the landscape of Louisiana, the Young Audiences affiliate there has returned stronger than ever. It is now the largest provider of arts in education programs and services in Louisiana, reaching close to 60,000 children statewide.