pARTnerships in Action - Looking forward to Kansas City!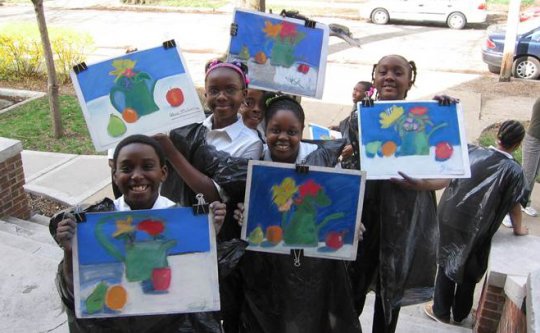 The inclusion of the arts in K-12 education offers students opportunities to learn and succeed in ways necessary for the 21st century. Young Audiences Arts for Learning Affiliates provide schools with programming in the form of performances, workshops and residencies that engage students in arts-integrated curriculum. Kansas City Young Audiences and Arts Partners Wichita – affiliates of Young Audiences Arts for Learning – are co-hosting the national organization's 2015 Conference, Building pARTnerships through Community Connections to highlight partnerships that meet the goal of providing arts-rich programs for all students.
First established in 1985, Kansas City Young Audiences' (KCYA) Arts Partners program is a collaboration of 15 Kansas City arts organizations coming together to provide comprehensive arts-in-education experiences to children in school districts across the Kansas City metropolitan area. Some of KCYA's Arts Partners include the American Jazz Museum, Kansas City Chamber Orchestra, Nelson-Atkins Museum of Art, Theatre for Young America, and the Lyric Opera of Kansas City. As a result of the partnerships fostered under the Arts Partners program, Kansas City Young Audiences is able to draw from any of its partner organizations to provide access to a wide variety of in-school performances, workshops and residencies, as well as field trips to partner venues, in support of different curricula depending upon the need of the schools. Schools that enroll to be a "partner school" also receive the additional benefits of having preferred scheduling status, the expertise of a trained program coordinator to help pick the best programs for every grade level, as well as the opportunity to receive educational support materials to complement selected programs.
"The partnership with KCYA has enabled our district to implement a systematic framework to ensure children at all grade levels have the opportunity to participate in these local artistic experiences via field trips or through bringing the artists or programming to our schools.  The KCYA program promotes access and equity, which opens doors for students and creates career possibilities which ultimately can change the life paths of our children."
-Lisa G. Walker, Assistant Superintendent, Curriculum and Instruction,Grandview C-4 School District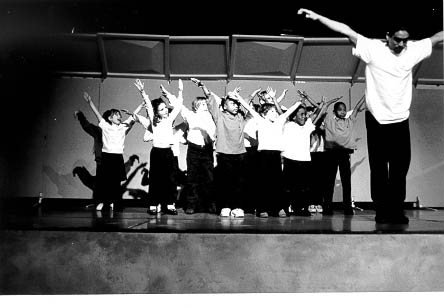 Arts Partners Wichita is a comprehensive PreK-12 arts-in-education organization. 40 teaching artists and ensembles present in-school programs that integrate their art forms with other areas of the curriculum, such as math, science, social studies, technology, and history. 26 arts and cultural partner organizations present outreach programs and field trip opportunities through Arts Partners. Members of the Arts Partners Wichita staff work with curriculum coaches and teachers to create curricula that combine classroom study, field trips and outreach programs with teaching artist performances, workshops and residencies in the visual, literary and performing arts. Teaching artists often design programs specifically for the needs of a small group of students.
Though not formally a part of the either affiliate's Arts Partners initiative, there are many other organizations that are not traditional arts presenting organizations with which Kansas City Young Audiences and Arts Partners Wichita have formed partnerships and which are vital to the success of these programs. These partners include Bank of America, Hallmark Cards, Inc., Sprint Nextel, KPMG LLC, Spirit Aerosystems, and H & R Block. Without the generous support of these organizations, the reach of Arts Partners Wichita and Kansas City Young Audiences would be greatly limited.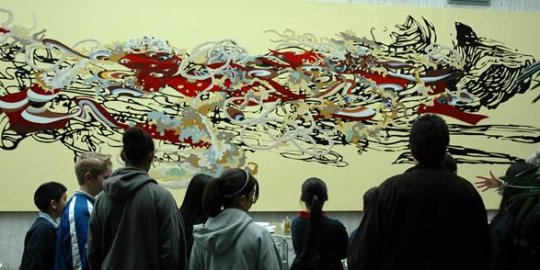 Kansas City Young Audiences and Arts Partners Wichita's Arts Partners programs attempt to address the issue of opportunity gap and lack of arts access for students through the creation of an extensive network of specialized community partners in the form of arts presenters, school districts and non-arts organizations. This unique, highly effective network of Arts Partners works to provide equitable arts programs that enrich the education experience for all students.
Join us April 23-25 for the National Building Partnerships through Community Connections conference in Kansas City, MO as we further explore the benefits of establishing effective partnerships within your community through engaging panels, vibrant discussions, hands-on break-out sessions, arts-infused site visits and more!
Learn more
about the 
Building pARTnerships Through Community Connections
 Conference or register by clicking below.