Missouri Students Learn about STEAM through "The Art of Baseball"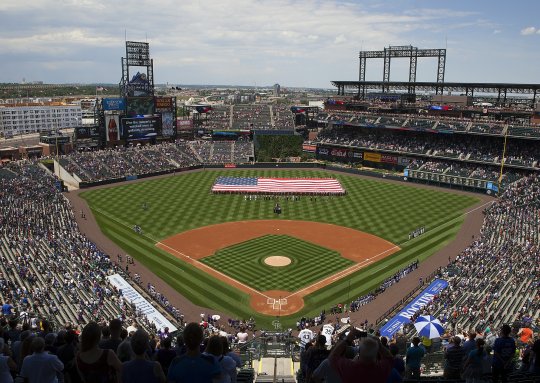 Did you know that the average Major League Baseball player gets up to bat roughly 500 times a season? How about the origins of the design on your favorite team's uniform? Or the reason home plate faces the direction that it does in your hometown stadium?  As it turns out, there is more to baseball than just what is readily apparent on the field. These topics, in addition to many more, are what Springboard hopes to help kids explore throughout the course of their new "Art of Baseball" program.
The Art of Baseball is a program that has been developed by Springboard - a Young Audiences Arts for Learning Affiliate - in collaboration with University of Missouri, St. Louis doctoral student and highly decorated educator Carrie Launius. The program strives to use baseball as a vehicle to demonstrate some of the countless real-world applications of STEAM in a way that is more readily accessible to students. In other words, it is a "deep-dive" exploration of everything baseball that integrates the arts, science, math, engineering, and technology in a fun and exciting way.
When Springboard began developing this program, they wanted to look for something that naturally incorporated STEAM principles in a way that would also appeal to a wide variety of kids in the St. Louis community. The answer they came up with? Baseball. The logical question in response to this then, might be "why baseball?". You only need to look as far as the jam-packed Busch Stadium - home of the St. Louis Cardinals - on game nights to see the first; baseball in St. Louis is immensely popular. Average home attendances at Cardinals games have consistently been among the highest in Major League Baseball since the Cardinals were established in St. Louis. This great source of almost universal popularity provides a perfect opportunity to pique students' interest in learning through something they know and love. 
The game of Baseball inherently encourages a strong practice of such STEAM staples as statistics and data analysis, as every hit, run, catch etc. is counted and recorded in an effort to quantify numerous aspects of player and team performances. These skills alone have been widely accepted by business leaders as immensely important skills in a new economic climate which values analytical skills and the ability to reach conclusions based on given sets of data. But, much like baseball, there is more to the game than what goes on during nine innings on the field, and The Art of Baseball's programming is structured to include that which may be considered more "behind the scenes" as well. Students will delve into everything from the engineering and design aspects of the stadium to the more traditional art focused components such as logo and uniform design.
Right now, The Art of Baseball has finished its initial planning phase and is going in to its first year of implementation. In its first year, the program will be piloted at two St. Louis schools in the fall of 2015, and will be joined by two more St. Louis area schools in the spring. 
In the near future, Springboard hopes to expand the program to incorporate other schools around the country through partnerships with other Young Audiences affiliates in Chicago, Miami, Minneapolis, and Kansas City. One of the longer term goals for the program is to create an online interactive environment to facilitate student cooperative learning. Each student would be able to interact with their peers across the country via a custom built website to compare their findings and to promote discussion of the information that they have discovered. This data can then be used to encourage students to uncover trends and create hypotheses to try to account for why certain data might be more prominent in one area than another.
The next time you tune in to watch a baseball game, take a minute to think about all of the different things that go into the making and presenting of that game. That's the art of baseball!
For information about The Art of Baseball, contact Springboard's Senior Program Director Anthony D'Agostino at
adagostino@springboardstl.org
or call (314) 768-9670
Newsfeed
December 5, 2019