An Interview with Elizabeth Núñez: Conductor of the Young People's Chorus of New York City
The Young People's Chorus of New York City is a multicultural youth chorus internationally renowned for its superb virtuosity and brilliant showmanship. Founded by Artistic Director Francisco J. Núñez in 1988, this groundbreaking program harnesses the power of music to fulfill the potential of every child.  Almost 1,400 young people ages 7 to 18 participate annually through YPC's core after-school program, its Satellite program in New York City public schools, a national affiliate in Tenafly, New Jersey, two after-school community choruses located in Manhattan's Washington Heightsw and at the Goddard Riverside Community Center.
Interview with Elizabeth Núñez, Associate Conductor of Young People's Chorus of New York City.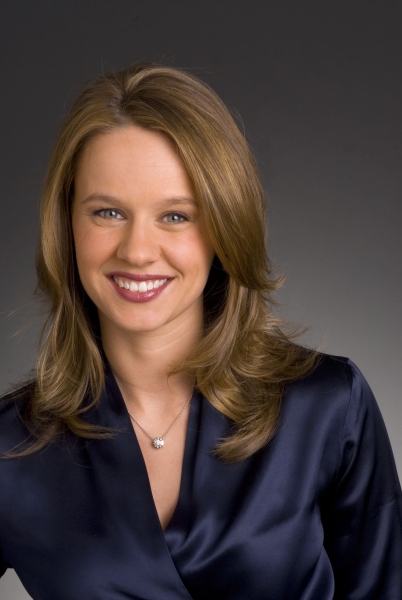 Elizabeth Núñez created and directs Young People's Chorus of New York City's (YPC) acclaimed Cantare chorus and serves as vocal coach for all other YPC divisions. As the director of YPC's in-school Satellite Schools Program, she works with New York City public schools to bring YPC's unique music education program to an additional 1,000 children annually. Since joining YPC in 2004, Elizabeth has led Cantare at international choral festivals in British Columbia, Wales, and at the Adolf Fredrik Choral Festival in Stockholm, Sweden, where Cantare was the first American choir ever invited to participate in this prestigious choral event. Most recently, in July Cantare won two gold medals and one silver medal at the Golden Gate International Choral Competition. Young Audiences got the chance to interview Ms. Núñez about her career and her connection with the arts.
Young Audiences Arts for Learning: What originally inspired you to become a musician and pursue music and conducting as a career?
Elizabeth Núñez: I grew up singing in church and in my school chorus; singing was always a big part of my identity.  I also played in band and participated in theater at school, so arts education really shaped me into who I am today.  I went to college as a vocal performance major and after volunteering with the local children's chorus, I added on a music education degree. I was very lucky to have a professor who mentored me and gave me conducting opportunities, even though I was an inexperienced student.  As I worked with these ensembles, I began to see not only the power of creating beautiful music and inspiring artistry, but also the conductor's position to facilitate community-building and teach the ensemble to function as a team.  The bond that is created among members of an ensemble is like no other, and I am so proud to be a part of that connection.
YA: How long have you been with YPC, and how did you first get involved with the organization?  
Elizabeth Núñez: I have been at YPC for 12 years.  I was working with a choir in Oklahoma when Francisco Núñez visited as our guest composer and conductor.  A year later, he called and said there was a job opening at YPC and asked if I would be interested in applying.  I was excited to have the opportunity because the mission of YPC—bringing children together from all walks of life—resonated with me personally.  Being part of this organization has been fulfilling for me as an artist and as a human being.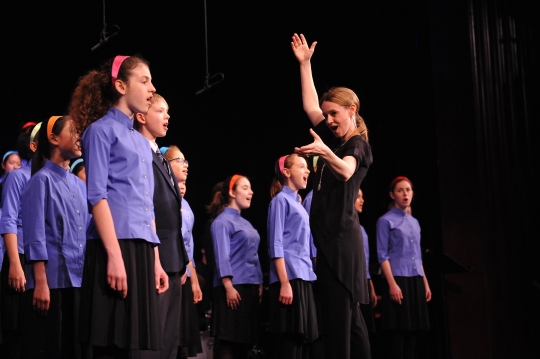 Photo Courtesy of the Young People's Chorus of NYC
YA: Why do you believe that the arts are important in our children's development and education?
Elizabeth Núñez: I believe every person benefits from self-expression through the arts, it's good for the soul.  When we take time to create something new and participate in endeavors that require great discipline, it broadens our horizons and raises the expectations we have for ourselves.  The discipline of the arts breeds qualities in young people that transfer over to skills in other areas of their lives.
YA: What advice would you have for kids who may want to follow in your footsteps and pursue conducting or another aspect of music as a career?
Elizabeth Núñez:
Play an instrument because along with singing, it can enhance reading skills and provide the opportunity to play different roles in various ensembles.
Perform as often as possible.
Be diligent in your commitments.
Take advantage of every opportunity that comes your way.
Talk to people in the profession and take as much advice from them as you can get.
Make as many friends as possible.
Work hard.
For more information about the Young People's Chorus of New York City, visit their website.
Join Young Audiences Arts for Learning at their Annual Gala Thursday, November 19, 2015 for the chance to enjoy a special live performance by the Young People's Chorus of New York City under the baton of Elizabeth Núñez.

Newsfeed
November 29, 2020