Fresh Food, Local Artists: Bringing a Community Together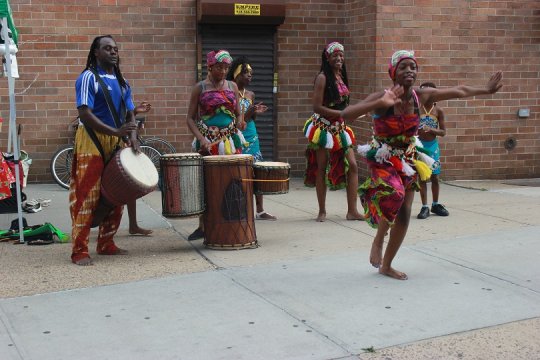 Three small heads leaned out the window of the third floor, looking out to the ground to gape at the scene below: The corner of Fulton and Richmond St. had erupted in drum, song, and dance.
More tiny audience members looked on from street level, excitedly watching as a man jumped across the pavement in front of them holding a large African drum. Some children learned the moves to pan-African dances, performing shyly as their families clapped and took pictures. Others simply smiled and nodded their heads to the beat, helping their parents pick out vegetables for the night's dinner.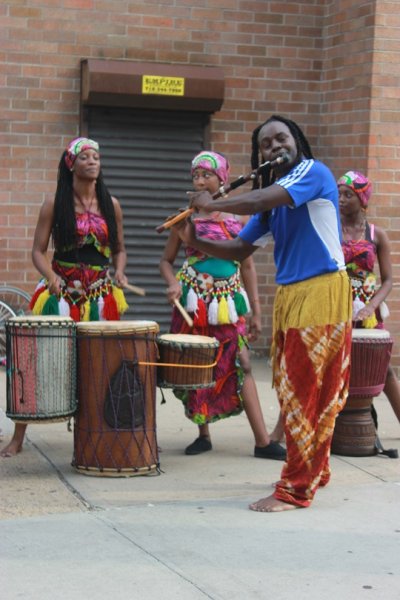 This vibrant performance by Seventh Principle Dance and Drum Ensemble, organized by Young Audiences New York and Cypress Hills Local Development Corporation, transformed a typical Friday into an evening of community building and culture.
The event coincided with the CHLDC's weekly community farmer's market, Pitkin Verde, which employs teens in the community to sell fresh produce in locations all over Brooklyn. The market encourages healthy eating, featuring free cooking workshops and nutrition education, and sells only seasonal fruits and vegetables sourced from local farms within a 250-mile radius. By reducing the "food miles" these products travel, fewer fossil fuels are emitted, and fewer nutrients are lost to preservatives.
Though African drum beats and vegetables don't seem to have much in common, the collaboration between YANY and the Pitkin Verde Farmer's Market came from a shared desire to enrich the Cypress Hills community.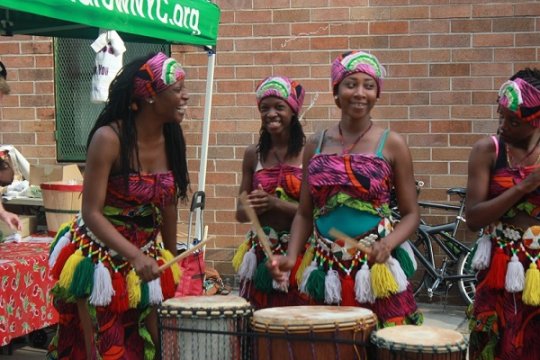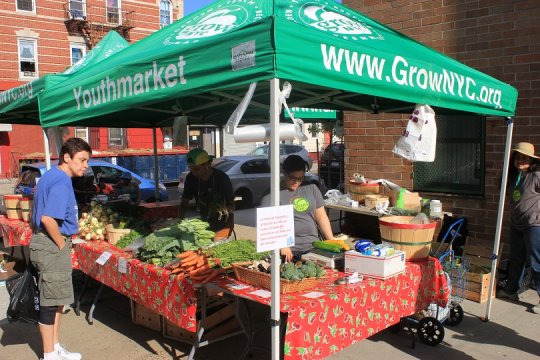 After looking at the list of schools they had partnered with over the years, YANY determined which districts would benefit most from increased arts enrichment – areas such as Cypress Hills, Belmont Treemont, and Upper Harlem. YANY organized focus groups and spoke with educators from the area to determine which kinds of arts programs would be most impactful in these neighborhoods.
One school Principal expressed her desire to find arts opportunities for her children outside of school, but closer to home: instead of traveling to shows and museums in Manhattan or at BAM, she said, it would be wonderful to bring the arts into their own neighborhoods.
This summer, YANY is answering this wish, providing arts programming in public spaces across Brooklyn.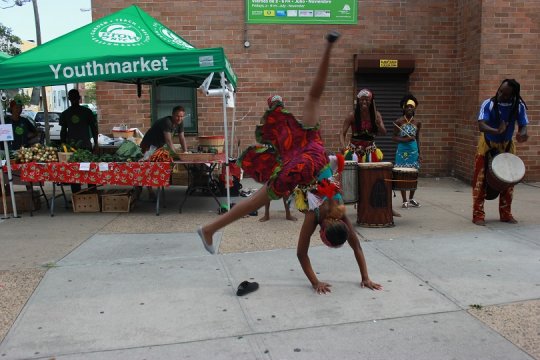 Earlier this month, as a part of the "June Jives" performance series, passengers disembarking at the last stop on the 3 Train were greeted with performances of Chinese and modern dance. "People were coming off the platform and stopping in their tracks," recalled Jasmin Foreman, YANY's Program Manager, who organized the "June Jives" events to bring attention and awareness to the public space surrounding the subway station.
And for the rest of the summer, African dance and drum group Seventh Principal will be performing at several scheduled Pitkin Verde farmer's markets, at both the Fulton St. and Pitkin Ave. locations.
By offering free performances at these farmer's markets, YANY hopes to simultaneously draw attention to the market itself, promote public space, and engage the local community in new cultures and art forms.
The young dancers of Seventh Principal moved to the pounding drum beat, combining traditional African dance with modern and contemporary movement – meanwhile, dozens of families stopped to enjoy the show and grab a few fresh tomatoes, a head of lettuce, or a freshly picked peach.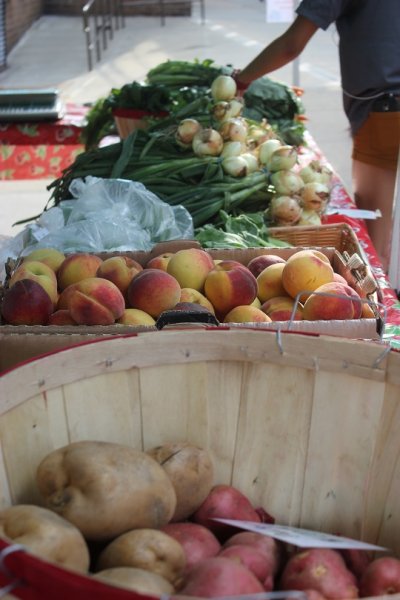 Behind the tomatoes stood Lisbeth De Leon-Pichardo, who has been working at the Pitkin Verde farmer's market for almost a month. She dreams of owning her own farm one day, and has spent the summer learning what it takes to cultivate, grow, and sell fresh produce. "A lot of community members don't have access to foods that aren't imported or filled with chemicals," she said. "This is a great way for people to access organic, healthy, real, food."
Jasmin Foreman looked on at the scene with a smile. "We want to show the community something they haven't seen before," she explained. "We want to engage people, inspire them to come out of their houses, see new things." And, while they're at it, eat healthier.
Contributed by Sarah Holder, Marketing and Development Intern at Young Audiences Arts for Learning.