Dance for Life: Tapping Up Math, Dance, and Fitness Skills in Virginian Schools
                                                                                         Dance for Life program overview video
In many communities in the state of Virginia and across the U.S., low-income populations either cannot afford heathy food or have little access to healthy options. Combined with little physical activity, this destructive relationship between poverty and poor nutrition has created many health problems for high-need people, especially in children. In 2011, the National Survey on Children's Health found that 29% of Virginia's 10 to 17 year olds were overweight or obese.
For the last six years, Young Audiences of Virginia (YAV) has partnered with the Portsmouth City Public Schools to bring the Dance for Life program to their students. Portsmouth is a community with many low-income families and it has a great need for arts and non-sport related fitness programs in their schools. One of the participating schools, Simonsdale Elementary is a Title 1 school where many of the students qualify for free or reduced lunches.
The goal of the Dance for Life program is to use dance as a creative way for students to understand math concepts while learning how to be healthy and fit. To kick off the program, the students were invited to watch a performance featuring the Dance for Life teaching artists. This allowed students to witness and appreciate a professional dance performance firsthand.
The Dance for Life program continued with an eight-week residency where teaching artists came into the classroom to teach the history, technique and terminology of Tap dance and Hip-hop. The residency allowed the 5th and 6th graders at Simonsdale Elementary School to execute the dance moves and have an understanding for the art form as a whole.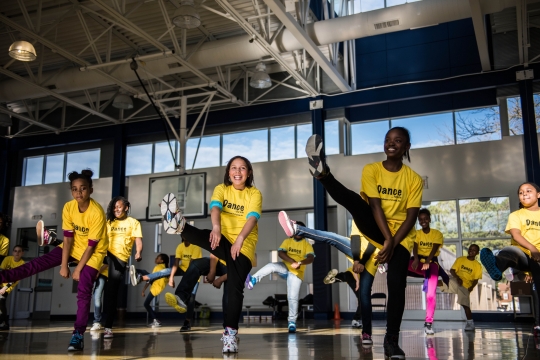 When the residency program began, many of the students didn't have the stamina to dance more than five minutes of constant dance. By the close of the residency, most of the students had increased their endurance and were able to dance for 45 minutes without interruption. Alongside the exercise that comes with dancing, students learned about healthy eating habits. During the program, students learned what the healthiest food is to eat, where they can buy the food, and how diet will affect their health.
Dance for Life uses dance to help students understand math, which may have ordinarily been difficult for some students through traditional teaching methods. Using the combination of rhythms and patterns in Tap and Hip-hop steps, teaching artists are able to easily and effectively communicate math concepts and equations to kids. Dr. Fiona Nichols, Director of Mathematics Education for Portsmouth Public Schools along with Sharon Moore, Supervisor of Health, Physical Education, Wellness and Athletics partnered with YAV to align the residency with the fifth and sixth grade math curricula. The choreography of both dance forms along with the patterns and sequences were used to help students understand several mathematical applications including addition, subtraction, and fractions.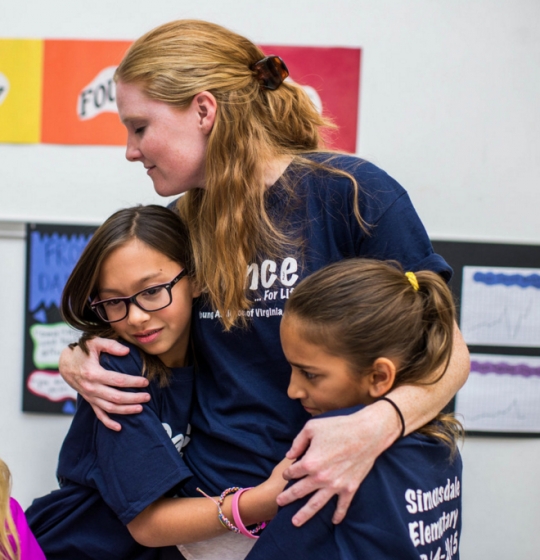 This year, the dance residency portion was led by Sheena Jeffers (see photo of her and students on the right), Arts Integration Director who effectively demonstrated the dance and math principles but also cultivated the confidence in her students by building a dance community. The Dance for Life program helps kids to interact in a group setting, and even gives students enough confidence to perform in front of their peers. Through this program, participants collectively used dance to problem solve as a group. Not only are students learning with one another, but they are also learning to help one another.
Dance for Life has been a resounding success and YAV along with other nonprofits and civic organizations in Virginia, is making an impact on lowering childhood obesity rate across the state. Students had a very positive reaction to the program. Their overall experience with Dance for Life changed their attitude towards dance, exercise and math. In a post program survey, 45% of students felt more positive about math and exercise. The program also retained 100% of its students throughout the eight weeks and YAV's Dance for Life program received the 2015 Dominion Art Stars Award! More importantly, by working together, the students developed great social and problem solving skills. When it ended, the kids walked away with new found abilities in dance, mathematics and best of all, they got moving!
This is one of the great programs produced by Young Audiences of Virginia which celebrates its 60th year anniversary!
Funding for this program is provided in part by Portsmouth General Hospital Foundation, Business Consortium for Arts Support, Portsmouth Museum and Fine Arts Commission, and Virginia Commission for the Arts.
Newsfeed
December 4, 2020