Creative Electricity Charges DaVerse Lounge Season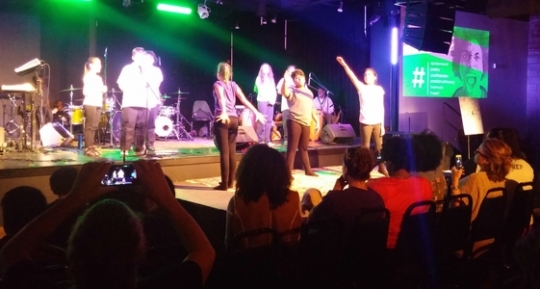 By Mario Tarradell, Public Relations & Marketing Manager, Big Thought
You need 161 megawatts of electricity to light up New York City's famed Times Square. It felt like we had that much power and more at the 11th season closing show of DaVerse Lounge.
Life in Deep Ellum was buzzing Friday night, April 1, 2016. There was so much positive energy in the air, a contagious joie de vivre that exuded from everybody walking through the glass doors. The crowd was varied, a mixture of DaVerse veterans, Lounge newbies, students, teachers, parents, artists, hipsters, young professionals and retired arts enthusiasts.
The evening's statistics speak volumes:
640 in attendance – the largest DaVerse Lounge crowd of the season
41 students performed
26 high schools in the house, 13 middle schools, 3 elementary schools and 2 colleges
17 of those schools are outside of Dallas city limits (including McKinney High School, Mansfield High School, Greenville High School and Sam Houston High School in Arlington)
13 Big Thought-supported DaVerse clubs attended
The event gave us another first: Marsh Preparatory Academy students presented an impressive singing, dancing and poetry number incorporating two songs titled "Hello" (by Adele and by Erykah Badu), original choreography and unique spoken word. It is the first time in DaVerse Lounge history that one performance features all three artistic disciplines.
"The poetry was amazing," says DaVerse Lounge creator Will Richey about the Marsh showpiece. "The dancing was beautiful and well choreographed. The entire crowd sang with them. Marsh had the strongest facilitators there. They have some really strong teaching artists."
For DaVerse Lounge partner and co-mentor Alejandro Perez, Jr., Friday's show was highlighted by the kit square off of The Drummies, 10-year-old Adarian "AD" Roberts and 12-year-old James "JD" Beck, and a momentary excursion the Melody Memory bandleader took from the spotlighted stage. He slipped off to the Mokah Coffee Bar inside Life in Deep Ellum and found a student from Sam Houston High School who attended a recent DaVerse Lounge assembly and workshop led by Perez and Richey held at the school's Black Box Theater.
"She remembered what I said about expressing myself with my body," says Perez. "She said that dance was the best way for her to express herself; she could express herself more with dance than with words. That was so nostalgic for me because dance is my first language. I feel like you say so much more when you move."
This is the beauty of DaVerse Lounge, particularly its nurturing partnership between Big Thought and Journeyman Ink. Big Thought champions creative learning, the need for all students to soak up real-life knowledge outside of the regimented school day. DaVerse Lounge is all about self-expression and equality. Every child, every teen has the right to get up on that stage and express themselves. At DaVerse Lounge there is no educational opportunity gap. Everybody with a message gets the mic.
"I'm continually intrigued about the necessary implementation of young people to be heard, to be seen, to be acknowledged," says Perez. "That sacred ground is DaVerse Lounge. When you walk in you become a part of it instantaneously. You can be yourself. You don't have to pretend to be anybody else."
Clearly the impact of DaVerse Lounge reaches beyond the four shows each season. Like all youth-driven movements of the 21st century, DaVerse Lounge has a strong presence on Twitter, Facebook and Instagram. Richey mentions that high school attendance this season was higher than ever. He credits social media interaction.
"It has a much deeper impact on our city and our culture in North Texas than I ever imagined," says Richey. "So many relationships are developing in the artistic communities that are transcending culture, races and age. The partnership with Big Thought and Journeyman Ink has been incredibly strengthened by Life in Deep Ellum. Joel Triska and the dedicated, selfless people at Life in Deep Ellum have added to the beauty and the depth of the evening."
But as always, the power of any movement is best felt in the details. There was painter Matthew Brinston onstage creating a gorgeous, evocative abstract piece he titled "Share My Light," a phrase lifted from the DaVerse Lounge mantra. Brinston, like everybody transformed by the DaVerse Lounge ambiance, has his own potent story.
"Here's this young guy, 23 years old, whose career has taken off as a painter," says Richey. "I'm moved by his story, a touring musician who was in a freak accident and pronounced dead and he woke up and just started painting. He was not a painter before his accident. It's great to highlight a visual artist along with highlighting spoken word poetry and musicians."
That's the DaVerse Lounge energy. Perez felt "the pot was stirring and churning" Friday night. Richey soaked up the "intergenerational electricity." DaVerse Lounge continues to buzz, to mature, to transcend. The 12th season promises to "strongly impact the creative culture in North Texas," says Richey.
DaVerse Lounge is no longer just a poetry reading. It has the wattage to light up New York City.
DaVerse Lounge thanks TACA, State Farm and the Dallas Mavericks for the generous support.
Newsfeed
November 29, 2020