Capture Dance: Norfolk Public School Students Capture Dance by Turning Movement into Art
Photo Courtesy of Stellar Exposures
Contributed by Sheena Jeffers, Arts Integration Director, Young Audiences Virginia
Approximately 57% of American children receive no training or exposure to dance education, according to the National Dance Education Organization. In Norfolk, 1 out of 46 public schools offer classes in dance, meaning dance is only .02% present in the education experience of Norfolk students. 
Young Audiences - Arts for Learning - Virginia, an arts-in-education non-profit organization touching the lives of 10 million Virginia students in the past 60 years joined forces with Todd Rosenlieb Dance, the only professional dance company in Hampton Roads, and Norfolk Public Schools to increase exposure, knowledge and experience with dance and visual art. 
Department Chair of Granby High School Christian Fenley said, "The kids were fired up about it. They felt like superheroes of the art community: hand-picked. They all came to the table with different skills." 
Fenley said the students met multiple times to critique the different art pieces, presenting the opportunity to dive deep into art education. 
"They were able to put into practice the skills they learn in class in an environment that fosters creativity," Fenley said. "I hope that they take away with them the lesson that there is more than one correct solution to recording movement." 
Through the partnership, students took visual art workshops with YAV artist Asa Jackson to discuss movement, momentum and different ways to express movement. Then the students traveled to Todd Rosenlieb Dance to observe company classes and interview the dancers.
The students watched the dancers move through their full range of motion and play with dynamics, speed, levels and shapes. After observing, the students returned to their classrooms with a follow-up workshop with Jackson to create, produce and refine their work. 
Executive Director of Todd Rosenlieb Dance, Dyteya Lewis, welcomed the students from all 5 Norfolk public high schools on their field trip days and observed their enthusiasm. 
"We really enjoyed having them here," Lewis said. "The students were outstanding and extremely talented. They asked great questions and the dancers were happy to work with them, answer their questions and have them in the space."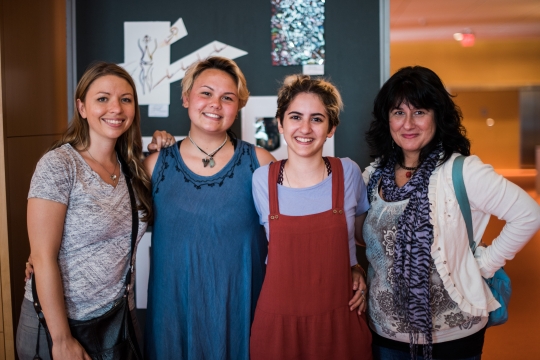 Photo Courtesy of Stellar Exposures
While at the studio, students carried cameras, sketch books, pencils but most importantly they brought and honed their ability to observe details: the way the fingers glide through the air, the way the feet articulates through the ankle and toes, the way the hip rotates and the way shoulder blades lie flat exuding confidence and grace.
The multi-art project inspired 85 pieces ranging from paintings, photography, sculptures, drawings and other 3-dimensional work.
"Dance is a universal language. It transcends all boundaries," Lewis said. "Dance is a performance art but we also use it to teach SOLs; it's a physical activity and also a mental activity. The wonderful thing about Capture Dance is that is covered all genres: the students heard music, observed movement all while actively sketching or photographing. When the students got into the studio to see the feet, the body, the language of dance, they were in awe. They had never experienced this before. They experienced the art on a whole new level." 
Asa Jackson, Director of 670 Gallery in Hampton, worked closely with the young artists to develop something from nothing. 
"Being a part of the Capture Dance project was a great experience," Jackson said. "Watching young minds blossom around an idea and seeing how far and in how many directions they took the concept was amazing. I hope to see it done again next year." 
Executive Director of Young Audiences Virginia hopes to see more art partnerships within the community to enhance student learning. "Young Audiences strives to enhance students growth through the arts. This partnership with TRDance and Norfolk Public Schools allowed Young Audiences to provide the opportunity to go beyond a single concept," Williams said. "Together, we were able to deepen the understanding, learning and appreciation for dance and visual art in a way not previously imagined by students. That is inspiring and motivating." 
The final exhibit of Norfolk Public School students' art of Todd Rosenlieb Dance company dancers ran from from June 2 - June 8 at the Slover Library.