Benefiting from Experience - An Interview with Arts for Learning/Miami's Board President Diane de Vries Ashley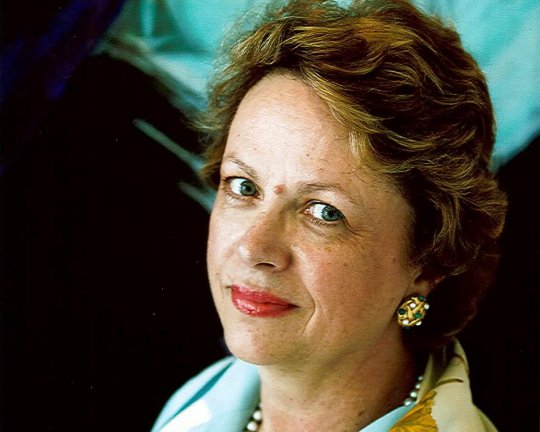 Diane de Vries Ashley, Board President, Arts for Learning/Miami
 
By profession, Diane de Vries Ashley works in a world of numbers, she is a  Director at the Banco do Brasil Americas and Corporate finance professor, Florida International University.  By vocation, she is passionate about the arts. Diane's ability to meld left-brain analytical thinking with right brain creativity gives her balance, which is appropriate considering her roots. Her mother was a noted sculptor; her father a lawyer. "I'm extremely happy with what some view as a huge dichotomy in thinking modes," she says.
Her career path echoes her opposing interests: climbing the corporate ladder in global banking with positions in New York, Miami and Sao Paulo, Brazil; consulting on wide-ranging financial issues; and becoming involved in a variety of nonprofit boards for arts and civic organizations. Further proof of flexible and agile thinking is her fluency in five languages.
Diane brings her rich background, expertise and wide network of contacts to her role as board president of Arts for Learning, the Miami affiliate of Young Audiences. She joined the board in February 2007 after what she calls the world's easiest pitch luncheon. "Within the first five minutes, we were discussing plans for the next year. I immediately had a sense I belonged here. It was an organization I could understand and support, and management knew what they were doing and how to make an impact."
In talking about the value of arts in education, Diane relates that people, even corporate funders, realize there's a component missing from the essential STEM disciplines of science, technology, engineering, and mathematics. "Most organizations view arts education as a strong number two funding possibility. If they're truly interested in the whole person, they understand the need for the arts in a full-fledged education."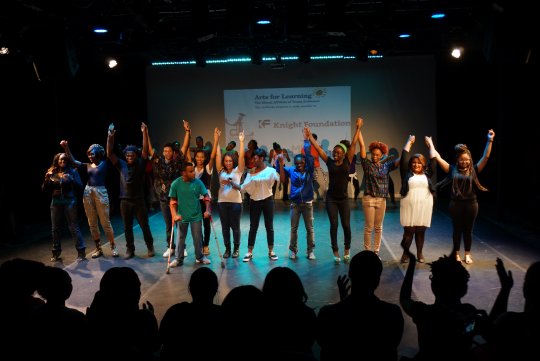 ArtWorks Miami culminating event
Diane and the board regularly visit programs underway. "We go not to inspect, but to be an observer and to participate and interact with students," she says. Last summer, the board attended an exhibit by students participating in ArtWorks, an internship program for high school students. This program was launched with help from UBS and the Knight Foundation and ArtWorks students work in teams, learning essential career skills while making works of art.
"The students don't have to say a thing; you can see the impact on their faces," Diane says. "When given an opportunity to be exposed to the arts, to spend more time hands-on, and to be with people who can mentor them and move them forward in what could be a lifetime career or passion, it's deeply exciting."
For middle-school students interested in the visual arts, there is the Lewis Arts Studio. First piloted in 2009, the year-round program now includes a summer camp, Saturday sessions, alumni activities, and support for both portfolio development and auditions for magnet high schools. "Your jaw drops when you watch the students working together, problem-solving as a team, and becoming more sophisticated in their thinking and their craft."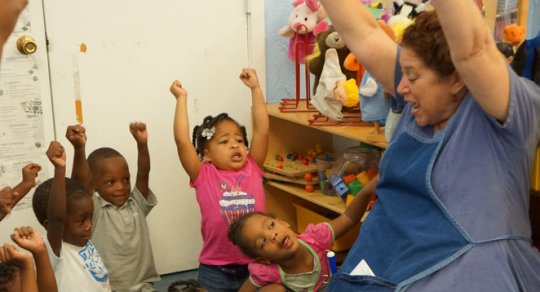 The Baby ArtsPlay! TM Residency
To help South Florida's youngest learners thrive by age five, Arts for Learning offers a number of programs that encourage children to dance, sing, act, create, and play – during which time they progress in developmental milestones and school readiness skills. Artist residencies in visual and performing arts for preschools are targeted to those between 3 and 5 years old. The Baby ArtsPlay!™ Residency is for children from 3 months to 3 years and is a program of the national Wolf Trap Institute for Early Learning Through the Arts. In 2009, Arts for Learning became one of 17 affiliates of the Wolf Trap Institute, which was established under a grant from the Head Start Bureau of the U.S. Department of Health and Human Services.
What keeps Diane at the helm of Arts for Learning is a sense of continuing purpose. "Here you can make huge contributions with your thinking and perspective and discipline. Money helps, too, but it's not the be all and end all. I could stay here forever if they let me. It's hard to curb my enthusiasm."