Aspiring Leaders Come Together in Buffalo to Inspire Great Success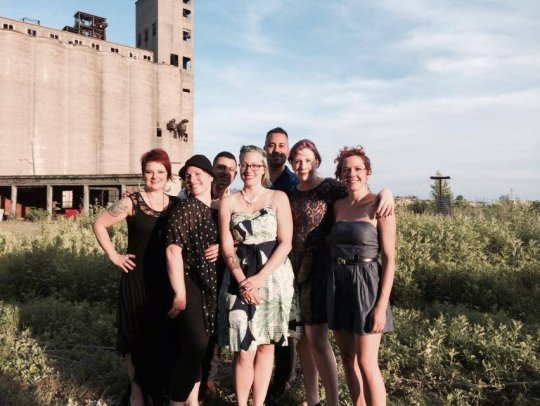 Emerging Leaders in the Arts Buffalo Board Members (ELAB)
Last week, July 13-16, Young Audiences Arts for Learning and Young Audiences of Western New York kicked off their Buffalo Emerging Leadership Institute to great success. The institute was a three day event tasked with bringing artists, non-profit administrators, teachers and other arts education professionals together in a more focused and encouraging peer-to-peer environment. This judgment-free atmosphere was vital to the attendees' successful exploration into identifying and honing the skills necessary to become a more effective leader in their respective areas. Attendee Julie Tay, of the
Mencius Society
applauded the institute, stating that she "came away renewed and energized," and that it "provided a wellspring and a transformative experience, which was a great honor and privilege to be a part of."
The Buffalo Emerging Leadership Institute started on Monday morning with the first workshop under the guidance of Lead Presenter and Executive Coach, Judi Spear. As an Executive Coach, Judi provides mentoring, tools and strategies to businesses and their administrators to strengthen their leadership skills as well as to help broaden their definition of what it means to be a leader. Judi's career has taken her into both large and small corporate environments, and has led her to start her own management consulting firm, RV Rhodes, Inc., as well as Invisionit, a service company that brings executive coaching to young adults aged 12-26.
During the course of the workshop, the attendees were asked to reflect upon the elements of their job that they found most engaging and challenging. Identifying these elements, the attendees examined what they perceived to be their own personal strengths and weaknesses in order to focus and build upon them throughout their time at the Institute. Judi provided the Institute attendees with two of the tools she uses frequently to help with this task - the StrengthsFinder Profile, and the DiSC Assessment. StrengthsFinder identifies natural talents based on the four domains of leadership strength unveiled in the #1 international bestselling book Strengthsfinder 2.0, based on a 30 year Gallup strengths research project, whereas the DiSC Assessment shows natural work and communication styles based on the template of four basic personality traits developed by psychologist William Marston. These tools help users identify natural strengths that -as they become more familiar and as the user is able to utilize them more actively- can help improve efficiency and effectiveness as a leader. These tools also help demonstrate that there is no one, "right" way to be a leader, and that anyone can learn to be an effective leader; a theme that would also prove to be quite prevalent throughout the Institute.
The rest of the workshops featured topics such as "Renewal and Reflection;" "Mentorship;" "Inclusions and Self-Advocacy;" "Team Management, HR Skills and Leadership;" "Relationships with Funders: Evaluations;" "Grant Writing;" and "Collaboration, Diversity, and Teamwork." Each of these topics featured different members of the Young Audiences team as well as members from guest organization Emerging Leaders in the Arts Buffalo (ELAB) and built upon the initial session to allow attendees to grow their strengths in various ways and through numerous activities.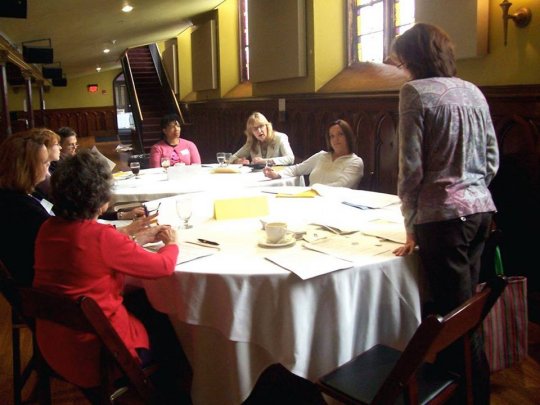 Attendees Busy Discussing the Topic of Grant Writing
One of the highlights of the Institute was the public event, "What Do You Advocate For?" on Monday, July 14. This event allowed attendees the opportunity to experience arts advocacy in a more approachable and meaningful way, with many great examples of how best to attract attention to an organization's mission in a way that will inspire people to want to participate in the organization. This public event also doubled as an opportunity for Institute participants to give their own mini-speech on a certain topic that they were particularly passionate about in front of a large, public audience and practice advocating for their causes in a real-life scenario. The advocacy topics that were presented for the attendees to meditate on ranged from STEAM to "The Arts: Eliminating Judgment While We Learn;" "Developing a Mission;" and even a spotlight on the importance of effective "Human Commitment" in a successful organization. One of the more memorable quotes from the night, and an excellent example of the caliber of advocacy efforts on display, came from Dana Saylor of ELAB, on the topic of "Placemaking."
"Buffalonians are hungry for something authentic, a real experience where they can touch their own heritage and connect with other people who want the same. Our world is filled with 'faux culture' that gets in the way of authenticity, so creative placemaking projects are wildly popular. People know and value history and our place in it; when they have the chance to participate in that directly, they will do so in droves. It is up to us to continue offering the public such opportunities. We only need to look around to see what is working and why. We already have the motivation, knowledge and energy to make it happen. Let's keep the momentum going."
The reaction from attendees was unanimous when asked about the Institute, they had come away from their meeting of peers with a better understanding of their leadership capabilities as well as a renewed appreciation for advocacy. For so many non-profits, government relations are often ignored due to the overwhelming pressures on a small staff, but it is a true asset that if used wisely, can set an organization apart from the pack. Sarah Haykel, a teaching artist from Young Audiences of Western New York best summed up a lot of the qualities of the Institute:
 "One of the most important parts of the Emerging Leaders Institute Training in Buffalo, NY, over the past few days was the connections made.  Bringing people in the arts together from all over NY state and beyond through workshops, special events, and presentations was the most fruitful part about the event.  Our time at Starlight Studios and at the Arts Advocacy event at Hallwalls was both eye and heart opening and really touching and inspirational.  Thanks for bringing us together for this important event.  Bringing arts into life in a way that serves and inspires all is a beautiful thing!"
Newsfeed
November 29, 2020